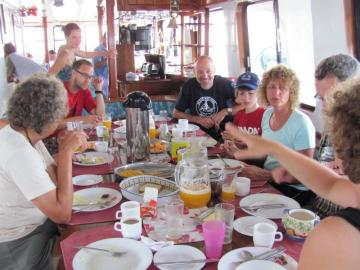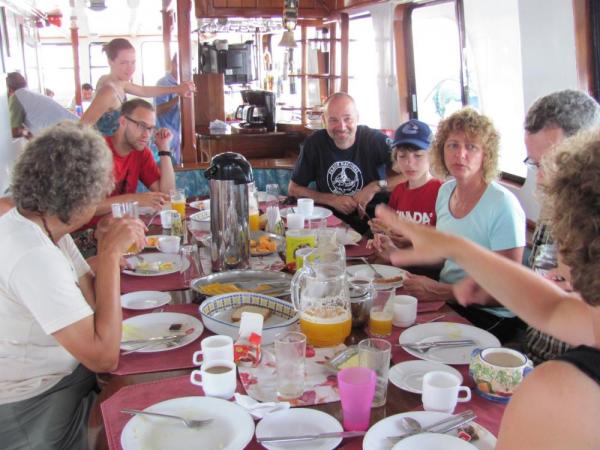 We panga-ed to Floreana's beach and followed a sandy path to see flamingoes nesting at the edge of a lagoon. Max and Sina from Stuttgart enjoyed the mud in their bare feet, but the rest of us contented ourselves with listening to the Darwin's finches chirping in the branches of nearby cactuses.
The real treat of the day was snorkeling at a circular reef called Devil's Crown, where we saw fishfishfishfish. My favorite was the bumphead parrotfish, for his rainbow colors and the squared-off shape that gives him his marvelous name. Down among the rocks, we saw shy little reef sharks, stiff black pencil urchins, and rays.
The absolute best moment of the trip for me was during that snorkeling expedition. As I swam, something came along just below me. At first it looked like a pair of brown hooks the size of your cupped hands. What on earth—or outer space—could that be? I actually wondered: A Martian? It was moving way faster than I was, and as it flashed by below me it got broader—and broader—until it was at least six feet across, then narrowed again to a long black tail. It was a huge manta ray, close enough to touch. The whole experience was over in a moment, but wow!
The Angelito moved over to Post Office Bay, the traditional mail drop-off for whaling ships, now a game for cruising tourists. We panga-ed in to look in the barrel set up on the beach, which was full of postcards addressed to people all over the world. Our European fellow-passengers kept saying, 'Oh, here's one from America. Is Salt Lake City'—or Seattle, or Los Angeles—'close to Maine?' We chose a postcard to deliver to Massachusetts.
After lunch, the Angelito motored to Ayora on Santa Cruz. In the harbor, we all enjoyed the sight of a Coast Guard speedboat at anchor, its deck covered in lounging sea lions. We went to town for the afternoon. After a week on the boat, it was hard to get used to the hustle and bustle of city life: why, every once in a while a car went by! When we were offered the option of going back into town after supper, no one went except the crew; we were happier on the boat. That evening, as I was standing at the after rail, something very large swam by. Since there was no one there to argue with me, I'm calling it a hammerhead shark.