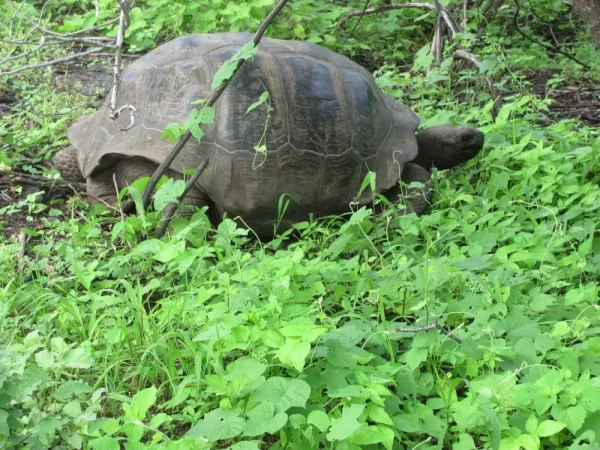 Flying out of Quito, Ecuador, is exciting. The city sits in a bowl high in the Andes, surrounded by mountain peaks, with the airport nestled right next to downtown, so we fairly leapt out of the city, up and over the mountains. We made a short stop in Guayaquil, near the coast, and then on to Baltra, our first island in the Galapagos.
As we landed, Baltra seemed to have little to offer beyond a flat landscape and scruffy bushes. The airport's only building, which consisted of a metal roof with open sides, was jam-packed with tourists: evidently Sunday is the turn-over day for all the cruise ships, large and small. Fifteen of us were gathered up by a slim, organized, fiftyish fellow who introduced himself as "Diego—like San Diego" and hustled us to a bus. Five minutes later we were being loaded into two pangas, which are flat, open dinghies shaped more like sandals, and then we were on the dear little Angelito, congratulating ourselves on not being headed for one of the behemoths anchored nearby and taking closer to a hundred passengers.
Diego gave us an introductory speech, with suggestions such as: if your spouse falls overboard, don't jump in after, go get help—otherwise how will we know you're gone? A Galapagos native, Diego spoke English in a clear and deliberate manner, delivering information in a specific number of bytes per sentence so that we could all assimilate every scrap.
It turned out that the majority of our fellow passengers were German speakers, and we soon found out that Diego could name every bird, animal, and plant on the islands in German as well. My husband, Skipp, and I were the only Americans. At 60, we were also the oldest people on board; our number included three teen-agers and a 22-year-old aspiring nature photographer.
After a pleasant lunch, with Luis bringing us platters of meat, vegetables, and fruit to pass around a long table, we were underway to Las Bachas, where we landed on the beach by scrambling out of the pangas into the surf (a so-called "wet landing"). The beach was amazingly pristine, considering the traffic it must get, so close to Baltra. We were there to admire the tracks left by sea turtles leveraging themselves laboriously up the beach to lay eggs. I have to say, the tracks looked very much like a Jeep trail. After our walk, we had a swim. The most adamant snorkelers among us went fish-viewing, although the water was too churned up by a pleasant surf to let us see much.
Back to the boat for supper, and anchoring overnight. Our cabin was small, of course, and unfortunately right next to the engine, which ran even when we were anchored so as to provide power. But we had air conditioning, comfortable bunks, a nice little bathroom, and plenty of storage, so who needs floor space? After awhile, we grew used to the engine and got some sleep.