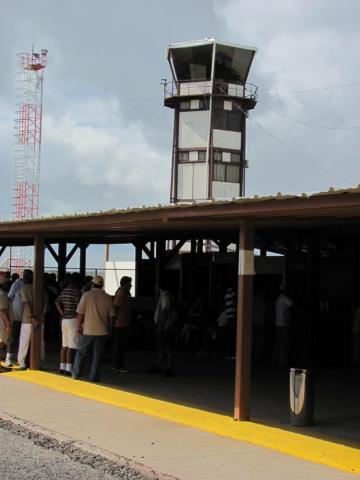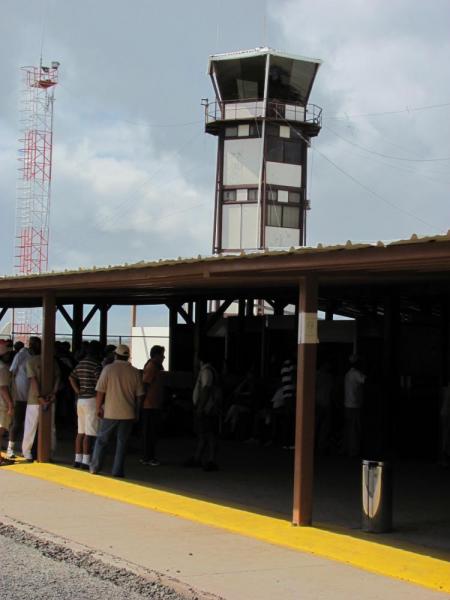 In Punta Moreno, we walked on a long stretch of fissured pahoehoe lava to see a troupe of flamingoes trolling in a brackish pond. They were such clowns that you could imagine them in a Disney film, with their leader coaching them in a chorus line: "All together now, stretch necks, bob heads, wuk-wuk-wuk-wuk, flap wings, look around. Okay, all together now, stretch necks, bob heads…"
This island provided us with all three kinds of endemic cactus: the tree-like candelabra cactus, the fuzzy low-growing lava cactus, and the opunpia, a giant prickly pear with yellow flowers. (Almost all the flowers in the Galapagos are yellow; evidently there is only one species of bee, and these bees like yellow.) There were also penguins in the water, a multitude of blue-footed boobies on the rocks, and a truly huge species of marine iguanas, almost as big as any land iguana we'd seen.
Snorkeling from the pangas, we saw fish, although not as many as other places, black long-spined sea urchins, and sea turtles. At one point, I was delighting in watching the feet of a cormorant paddling along, when suddenly the bird plunged his head into the water and I was beak-to-goggles with a pair of buggy-black eyes and something very sharp indeed. Evidently I didn't look like a fish, because he retracted the beak without pecking at me, and paddled onward.
A long haul during the rest of the afternoon. I stood by the rail with Bernard and Karin from Lyss, Switzerland, and watched the waves crashing thirty and forty feet high against the black cliffs. One after another, cinder cones poked up all along the shoreline. Again, we never saw another boat except for a panga which appeared out of nowhere to deliver three fresh, fat tuna. Let's hear it for cell phones.
That evening we anchored in Puerto Villamil. The crew went ashore after supper, leaving us gazing after them from out in the harbor; but I think we had more fun, enjoying visits from sea lions and pelicans who thought our loading deck and panga looked like fine spots to hang out. We finally got to see how sea lions climb: we watched them as they flung themselves upward out of the water and got their chins or chests over the side of the panga, then sort of wriggled until their weight was more into the boat than out of it, then flipped the rest of the way in. It didn't take more than a moment.