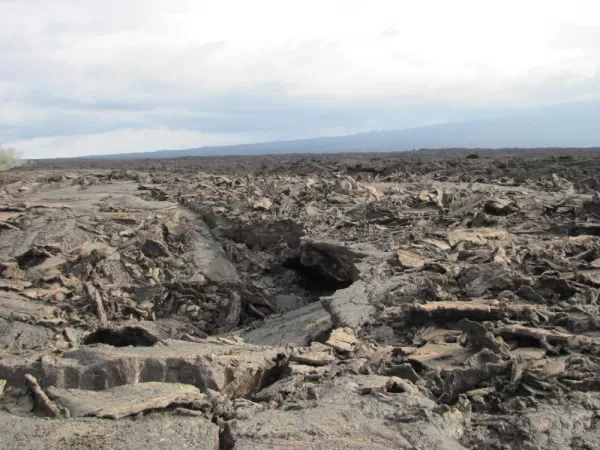 We woke up to watch the crew setting the anchor off Playa Tortua Negro beneath another lovely sunrise. (The day length, with sunrise and sunset promptly at six, was much the same as at home in Maine during the spring equinox, but with no twilight.)
First order of business after breakfast was a panga ride—a "no landing" trip alongside sheer cliffs. We toured around Tagus Cove to see flightless cormorants, blue-footed boobies galore, lots of Sally Lightfoot crabs, and penguins, cute little fellows who looked like bathtub toys. Then we undertook a dry landing to walk around Lake Darwin, a brackish lagoon in the shelter of a cinder cone. We climbed the neighboring cone for views of the Wolf Volcano and our little boat. We were serenaded by finches and mockingbirds, and my husband spotted a Galapagos dove.
Then snorkeling in Tagus Cove, sharing the waters with sea lions and sea turtles, and schools of tiny, silvery fish. The sea turtles looked so relaxed, hanging there in the water like huge serving platters, or moving with an occasional flip of a flipper. They looked very much like the surfer-dudes floating in the Australian current in Finding Nemo. Evidently these fellows take the current to Costa Rica in the summer, and come back in the fall when the current reverses. I'm very glad we were there when they were. Max, from Stuttgart, saw a shy little reef shark, and Paige, from Vancouver, managed to catch sight of a penguin flashing by underwater.
After lunch the boat motored to Fernandina Island, where we panaga-ed to Punta Espinosa. There we surveyed the two types of lava—pahoehoe (ropy) and aa (needle-sharp clinkers)—both jet-black. Fernandina sports an even bigger species of land iguanas, four feet long at least. Along the shore we found stacks of marine iguanas, sea lions playing in the surf, and, of course, Sally Lightfoot crabs, which were as decorative as ever.
We had landed at 2:00 in the afternoon, in the heat of the day—it was hot—so as to avoid sharing the path and the beach. At 4:00, panga after panga brought in 90 passengers from a Lindblad Explorer ship. Now we appreciated why Diego often spent hours on his cell phone while we were underway, negotiating with other ships for landing times so that we could have a private viewing of a site.
We bobbed at anchor overnight.