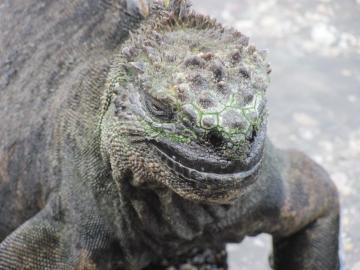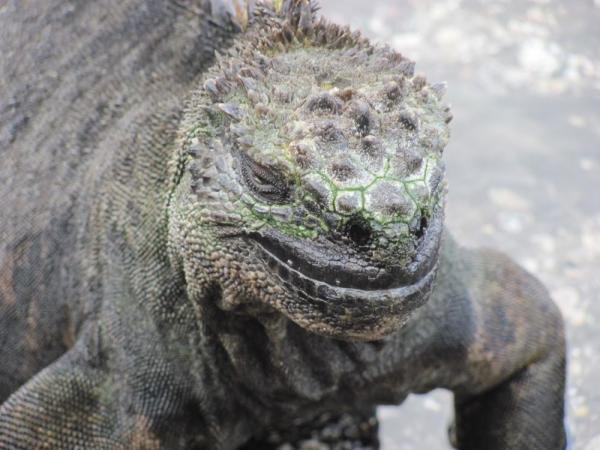 The boat traveled to Bay Urbina, where we hiked into the lowlands of Fernandina. We saw land iguanas digging nests (slowly), and we were very lucky to see two tortoises which had traveled down from the highlands, where they usually stay, because the islands were unusually green this year due to a good rainy season. These tortoises, knee-high, moved surprisingly quickly on their elephant-like feet, and grunted at us.
At the shore, we saw more sea iguanas, and went snorkeling off the beach. Lots of fish. Lots of fish. And sea turtles. An especially large one, well over three feet across, rose up under me and bumped me with its shell. Honest, Diego, it was the turtle that closed the distance.
After lunch, the Angelito moved on to Isla Mariela in Elizabeth Bay, where we took a panga ride around the islets to bounce along next to hordes of blue-footed boobies, penguins, sea lions, and marine iguanas. An odd place, the Galapagos: where else can you take a photo of a penguin sitting under a cactus? Out in the bay, we saw five devil rays working as a team to herd fish. They would spread out, then move in to the center, driving the fish ahead of them, and then there'd be a feeding frenzy, with a great flapping of white wingtips and jumping of fish. Then they'd back off, then move again into the center, and we'd see their snouts as they gorged again. Then back off, and move in again. Diego said he'd read about it, but never seen it. He began to call us his lucky group.
Then into a mangrove swamp, where sea lions lay basking on tree branches (an odd place, the Galapagos) and sea turtles moved languidly through the calm waters.
All this day, we never saw another boat except a local fishing boat: we had the whole world to ourselves. We anchored for the night at Punta Moreno.