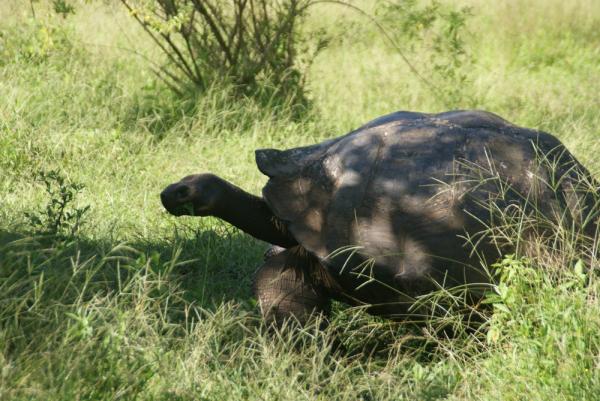 Once we arrived in the Galapagos, we met the couple from Colorado who completed our group for the Adventure Life "Hiking the Galapagos 9-day" tour, February 24 – March 4, 2009. Our guide was Sebastian Jurado, an amazingly knowledgeable, capable, and even-tempered man with an easy smile.
When we arrived at our hotel, La Casa Opuntia, on the shore on San Cristobal Island, sea lions were lounging on the beach, on the town pier, and on the decks of several boats in the harbor, sometimes sharing space with brown pelicans. Frigate birds sailed overhead. Because we were visiting during the rainy season, the usually dull brown landscape was transformed into a lush green. There were spectacular tropical flowers blooming. It looked like a poster for Paradise.
But actually, it was better than a poster. The Galapagos Islands' beauty is not soft or easy or static. It's dynamic. It's infused with intensity. This is not a safe, plastic imitation of something amazing. It is something amazing. It was born out of the violence of the volcanoes that rose all the way from the ocean floor. The jagged black rocks that formed from drying rivers of lava are still there today. Once men arrived, they added to the violence, with failed visionaries, pirates, brutal penal colonies, riots, and murder.
But to visit these islands today is to see wonders. An ancient volcanic crater now filled with rainwater. Lava tubes so big you can walk through them. Male Frigate birds displaying their huge red neck pouches. Thousands of red Sally Lightfoot crabs running sideways and jumping from black rock to black rock just above the waves, like a scene from an Alfred Hitchcock movie. The Equatorial sun blazing with such strength it hurts, and the stars so brilliant in the black night sky that the familiar constellations seem showered in extra lights. And, of course, the giant tortoises and blue-footed boobies, the source of endless puns on T-shirts.