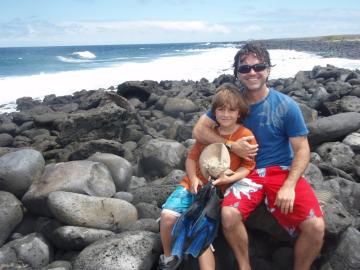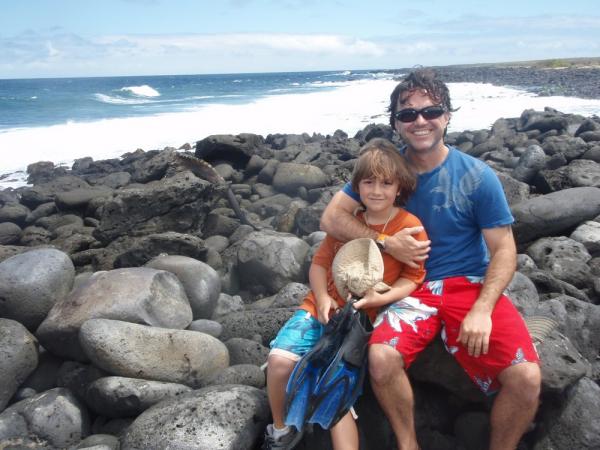 Sander (my nine-year old boy) and I (my thirty-nine year old self) decided to take a trip to the Galapagos Islands. For us, the Galapagos is an almost mythical place, sort of like a Neverland for nature lovers. It seems like a far off place, where only a few people have ever been (I've since found out that by "few" that means about 150,000 a year, which means the Galapagos is only slightly less visited than Paris Hilton). After doing careful research and factoring in the fact that the Elliott boys get sea-sick in a mud-puddle, I decided that a land based tour, as opposed to a cruise/yacht based tour, was the way for us. I like the freedom of being able to wander about town whenever I want and there's something more connected about sleeping in a place, as opposed to near a place. However, due to a crazy business schedule I wasn't able to book the trip far enough in advance to join a set tour. So we had to go with setting up our own tour of the islands using the same company, Adventure-Life. I was initially concerned about this route because I figured that the pre-set tour would get the "A" team, and we would get the "We'd sure love to take your money, so we took on the local 'Will work for food' guy, gave him an empanada, and he'll be showing you around the place." Actually, this is the first "tour" we've ever done. Historically, we just show up someplace and start exploring. But, I figure Galapagos is too big, too far, too huge to bungle through, so we went with the pros on this one. I definitely felt like I copped out a bit, and then I remembered that Lewis and Clark had a guide, Indiana Jones had a guide, and now the Elliotts have a guide. So there.
So we pack up our things and head off to the most famous remote Islands on the planet. But first an aside. When packing, I was torn between a backpack and a roller. My goal was to pack enough stuff for the two of us, for about two weeks, in one carry-on bag. And yes, that does require that we wear the same clothes a few, or five times, but it is my job as my son's father to teach him how to be a college student and then a bachelor. Anyway, I just bought this cool roller and as it sat next to my trusty back-pack, I felt like I was handing out the final rose. Katie, that would be my girl-friend, said I should take the backpack, but she's a former back-country trip leader so I figured she was naturally biased. As we're talking, she points at me, the room darkens, the candles flicker, and she says, "There will come a time when you are thankful for the backpack!" Having been raised by a strong Greek woman (Hi Ma!) I know better than to argue with woman pointing at me, so I chose the backpack.
Now, about that omen. We had a six hour lay-over in Miami, which by the way, is a terrible International Airport; Lubbock, Texas' airport has more services. Seriously, how do you have an international airport with so few food options? When you're leaving the country, or coming back, you stock up on American comfort food, especially in the age of airlines not feeding you. Except in Miami, there is no American comfort food. Not even a McDonalds. I think Miami Airport is the largest parcel of land on the planet without a McDonalds, and this is a big deal when you're traveling with a nine-year old. Anyway, where was I? Oh right, the lay-over. We arrive at 11.00 am, and don't take off until 5.30 pm, so we head to the lounge, chill out, play games, make some calls and talk about what the Galapagos will be like. Then as I'm talking to my mom, my phone dies, so I plug it in an the time comes up on the screen. And I stare at it. 5.20. "Hmmm, that means something," thinks I. 5.20. "Something's happening at 5.30." 5.20. And then it hits me, we're supposed to be on a plane at 5.30! I grab everything and shove it into our bags, literally rip the coke out of Sander's hand as his lips are reaching for the straw, and tell him to "RUN!" And run we do. So exactly ten hours into our trip, Katie is right; I'm able to fly through the airport with my backpack. Seriously, I'm like Good OJ running through the airport in that Hertz commercial, passing by the 30 gates to our plane's door. No way we could have made that time with a roller. Just no way.
So we sweatily settle into our seats and head for Quito, Ecuador, where we're picked up by a nice lady who takes us to our hotel. Quito, and Ecuador were not what I expected, but mostly because I don't do any research on things. Quito is a mountain capital and is about 6000' (2000m to the rest of the world) and surrounded by extinct/dormant volcanoes. It's cool at night, and the air is crisp and clear. In fact the whole city (or at least the part of the city you can see going from the airport to the hotel) is clean, uncrowded, friendly and modern. I'm not sure what I expected form Quito, but "nicer than most US cities," wasn't it.
Tomorrow…Galapagos!