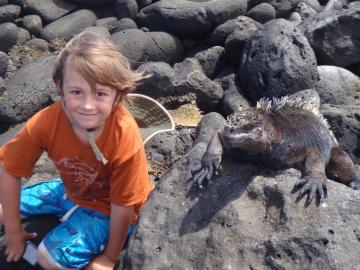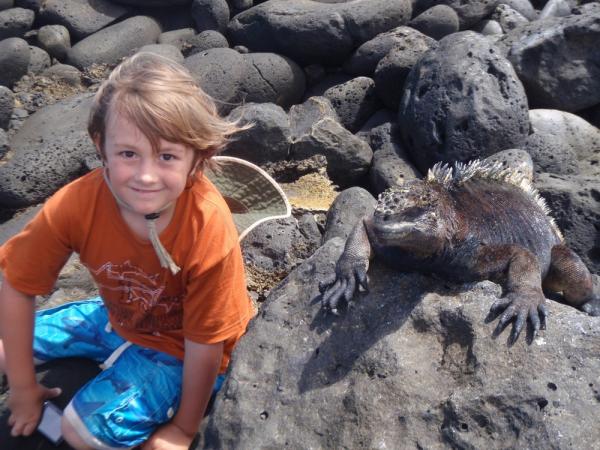 The fourth Day of our trip was "boat day," which meant we spent most of it on a nice, motorized boat. We saw Kicker Rock, Punta Pint (or something like that) and Lobo Island. The locals call sea lions "sea wolves" which is getting us closer to the sea lab name that makes the most sense, so "Lobo Island" is where the sea lions/wolves/labs hang out. But really, they're everywhere on Galapagos, so much so, that sea squirrels also works.
We loaded up in our boat and eased out of the harbor. And it was in the harbor that I noticed some really, really, I mean really, run down boats. So I asked Filipe about them and he told me that the sea lions/wolves/labs/squirrels sleep on harbor boats at night, and that they're not the neatest creatures on the planet- they tend to stink up the boats with their morning constitutionals. Boaters try lots of things to keep them off, wood planks, barbed wire, Menudo music but not much works. So the government decided to buy some old boats and leave them for the sea lions/w/l/s to use as they see fit. Which led me to think that there has to be a Spanish insult floating around where you tell someone their boat's so bad the government wouldn't even buy it as a floating sea toilet (all I know is that it would end with "banyo").
As we left the harbor we moved up to the roof to get a better view and enjoy the wind. There's a magical moment at the start of every boat trip where land lubbers feel the wind in their face, smell the salt air, hear the birds, and think, "This is the life for me" and begins fantasizing about a life asea. This usually lasts a few miles, then when you realize that the ocean never stops moving up and down, and that it gets worse the farther out you get, and that you can't really do anything buy try not to throw-up and embarrass yourself as you pray for land to appear. Then, and you know this if you've been there, after a day of near vomit, not eating, and cursing the waves, you get back to port, things calm down, the wind gets in your hair, the birds and sea lions are making cool nature noises and you no longer feel like you'll see every meal you've ever eaten, you think, "Hmmm, this isn't so bad. Maybe I could do this again." I imagine it's like dating a stripper.
On our way to our first stop, Pointa something (I think), we saw a whale! I'm telling you now, by the end of this trip we've seen just about every conceivable "must see" animal you can imagine. When we stop in the stormy bay of Punta Whatever, we finally see the elusive Red Footed Boobie and the not so elusive and never mentioned Masked Boobie. We teach Sander the tall boat entry and jump, again, into the cold, cold waters.
I'm going to take this time for a word about the Galapagos weather. We were there during the rainy season, which isn't a rainy season like India gets, rather more along the lines of Seattle. It's just hazy and damp. And the nights are flat out cold. I only packed us summer clothes because as near as I could figure, Ecuador is named after the Equator, and the Equator is the hot place, so I only packed shorts and t-shirts (Plus two rain jackets I grabbed at the last second. I never, ever pack rain gear. I know you've all heard the saying that God protects the children and the foolish, it's not too hard to figure you who's who on Team Elliott). But the Galapagos are at some weird convergence of three major tides so it's very mild year round, and cool in the rainy season (If only there was some way to find this stuff out ahead of time. Some kind of big data bank of knowledge that's easy to get to and find stuff on ahead of time so that I'd be better prepared. Oh well, maybe one day).
Our second stop was Kicker Rock. It's a fairly famous land mark because it's composed of a giant rock island divided by a channel. Our mission was to swim the channel and look for Galapagos Sharks. Our first foray into the channel revealed mostly chocolate cookie starfish and random fish. But, swimming around the other side of the channel we started to see the unmistakable swimming motion of sharks. Which is where you, the intelligent, discerning person think, "And then you got out of the water." Nope, not us. We rely heavily on the afore mentioned quote about God and swam away, pointing at the sharks, following the sharks and otherwise acting like we were swimming with gold fish. At one point, a three footer came within one third of that distance to Sander, who thought that was amazingly super cool, and I thought, "Wow, I bet Sander thought that was amazingly super cool." Ok, look, maybe that was a little close, but the way I figure, he came to the Galapagos with ten fingers and ten toes and left with ten fingers and ten toes. I feel like I hit the main points of my job description.
After a short lunch break in a protected bay where we caught Galapagonian Ant Lions in the sand, the day ended with a trip to Lobos Island, where I saw what I wanted to see maybe most of all. A marine iguana eating! I don't know why this was so special to me, other than seeing one in the water, holding onto the rocks and eating algae just felt like I was "there." You can see something like that just lounging on the land, and it's incredible (I have 67 photos to prove it), but it also feels a little…planned. But seeing one in the water, doing what it does, it feels somehow more spontaneous. Like you had to be at the right place at the right time, and you were. And that feeling of spontaneity gives you a feeling of connection to the event. That was seeing the marine iguana eat.
And that was our day in the Galapagos.