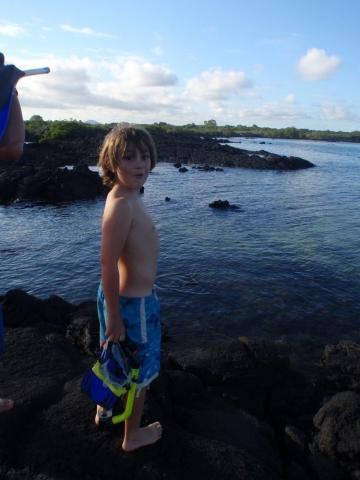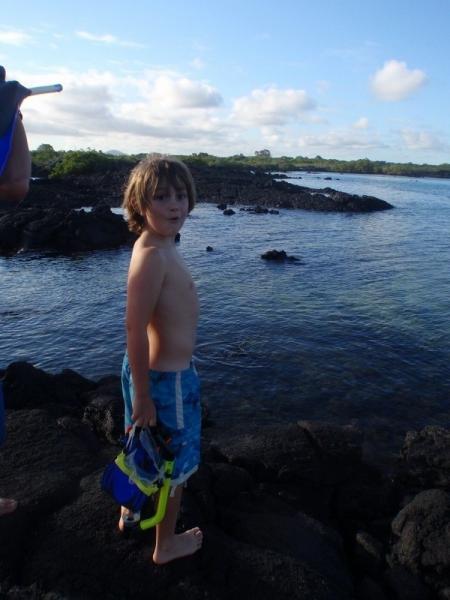 Today we left San Cristobal for Isabela. Isabela is completely different than San Cristobal in that it looks like another planet. If you want to start a rumor that the Mars Rover didn't actually go to Mars, just take some pictures of Isabela with a little remote controlled car and put it on YouTube.
But first, a quick description of the plane that took us there, and it will be quick because the plane was as big as a VW beetle. As we approached our plane there was a rather large fire extinguisher sitting next to it. As we all packed in the plane, Sander and I were in the rear, with only a cargo net separating us from everyone's luggage, I noticed that the fire extinguisher didn't make it on the plane, which led to the following philosophical question, "Which is more dangerous, flying without a fire extinguisher, or the added weight of said fire extinguisher?" It's sort of chicken and egg right? Do you need the extinguisher to handle the emergency that having the extinguisher causes?
The good news is that I was sitting next to the emergency exit. I find it comforting to sit next to an emergency exit when there's a 67% chance that I'll need it during a flight. Seriously, when the other passengers are making the cross symbol at take off, and our guide Filipe is the co-pilot, that's not a good sign, right? Also, where are you in the flying decision making process when your plane has one pilot but two engines? Is that better than two pilots and one engine? How much can a co-pilot cost? Can I check the box that says I'll pay extra for the co-pilot like I can for extra leg-room? These are the questions that I need answered when I'm taxing down the runway in a third-world country.
So we land in Isabel, a nice man sprays hand sanitizer on our hands and another one checks our bags to make sure we didn't smuggle in any tortoises or iguanas (true story-this happens every time you change islands), and we head to our hotel. After a quick lunch we meet our day guide and head to Las Tintoreras Island (Tintoreras is Spanish for shark).
At the pier, getting ready for our water taxi, we spy a baby marine iguana, and, as is our custom, begin to pop pictures like nature paparazzi. Only this time Filipe gives us a mild nudge and said that we'll see many more iguanas at the island and maybe we should chill on the picture taking. Not for the first time, I feel a bit silly, and he's right. Las Tintoreras is overflowing with marine iguanas. I mean, they're everywhere. But what's cool is that one side of the island is used for nests, the other is where the young hang out, and the other is where the big boys play. It's a lot like a school ground, with different grades having different areas. It was here that, while I didn't get sneezed on, I did, at least catch many sneezes on video.
Las Tintoreras is also home to a group of white tip reef sharks, hence the name. You walk the bizarre lava landscape; again you have to see this in person. When the lava was hot, the wind blew it so that it cooled into a landscape of stoney fire. It's very difficult to explain, but it looks like the plastic side of a giant Velcro strip. It's extremely cool. Anyway, the path leads past hoards of baby marine iguanas to a small cove where the sharks hang out. What struck me most about the sharks is how white the white tip of the shark's fin is. It's almost unnatural. If you saw a painting of a white-tip reef shark, you would think that the artist made the white too white, but you'd be wrong and those of us in the know would laugh and laugh.
Wait! Did I mention that we saw penguins on the way to the island? That's right, penguins. Apparently, these are the only penguins you can find living north of the equator. Sometimes the Galapagos seems like the island on LOST. Just too many weird things going on. So much so, that you lose track of what's going on and just take in what you see with a shrug. "Ok sure. Penguins at the equator. Not only that, but at this one particular island where everything else cool hangs out. I mean there are lots of islands between Antarctica and the Galapagos, why here? Did the cosmic writer need a plot device?" The place is just that amazing.
After our tour of the island, we crossed the bay and went for another snorkel. This time the big deal was loads of baby puffer fish. Actually, the big deal was crossing over all the lava rocks barefoot to reach the destination bay. Don't let anyone fool you, walking barefoot on lava rock huts like a mama. And the big fear is slipping between two rocks and turning your foot into hamburger, so every time you lose your footing you just bail into the water. So everyone looks like they're doing a funky hip-hop routine, which I'm sure amused the locals to no end.
After dinner Sander and I went exploring on the beach. We took our flashlights, and much to our delight, found the beach crawling with hermit crabs. Hermit crabs are becoming a fairly popular pet in the States, so seeing them roaming wild was like stumbling into the lost valley of the hamster. We also found a group of sleeping marine iguanas. So I stood there and watched them as "Every Breath You Take" played in the background.
By the way, at this point our clothes are beginning to get that "not so fresh" smell to them. The good news is that Sander's nine and doesn't know better, and I'm in the process of growing my "Castaway" beard so it fits my new image. Just keeping you in the know.