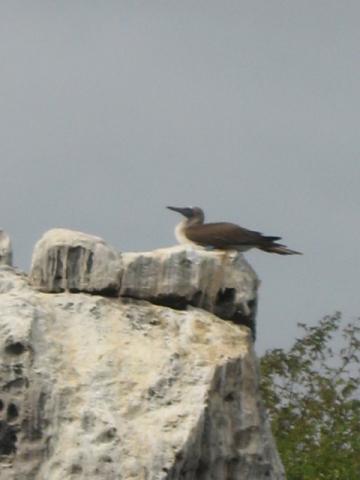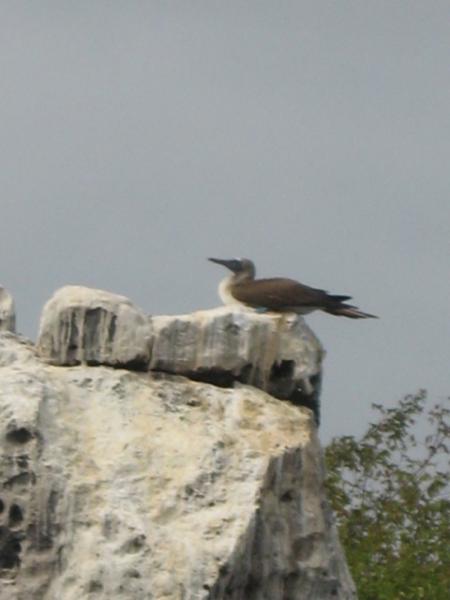 A biology professor of mine once said that being a naturalist was nothing like what we expected. We were used to National Geographic and the like showing us closeups of many animals and there was no ''down time'' where nothing happened. In real life you could be in the field a week and never see an animal.
In the Galapagos, I was also in National Geographic. I was tripping over animals everywhere we went. Especially the marine iguanas were plentiful, everywhere and you really could mistakenly step on them because they blend into the black volcanic rock.
Today's photos include:
Blue footed booby nesting on cliff face, taken from cabin cruiser on the way to snorkel. They are numerous, but it is hard to see their feet because they sit on them. They are genuinely blue.
I also saw frigates, noddies, penguins and too many finches to remark on. They all knew Darwin personally I hear.
That is me in huge rubber boots standing next to a land tortoise (all turtles and tortoises are called tortuga in the Galapagos whether they live on land or sea. These huge guys eat all the time and slowly lumber around in the forested areas. They sigh with a large sound reminiscent of Darth Vadar. The places that were most populated with them were wet and lush, hence the rubber boots.
The last photo is of 2 marine iguanas on the sand at the beach called Tortuga Bay. They are about 3 to 4 feet long! There were piles of these guys everywhere on sand, on rocks, in the mangroves, etc. I had to constantly watch my feet to avoid stepping on them. They were also common on docks, beach fronts, volcanic rock near beaches and in mangroves. Nothing endangered about these guys!
More photos tomorrow. This was the most wonderful, magical adventure of my life.