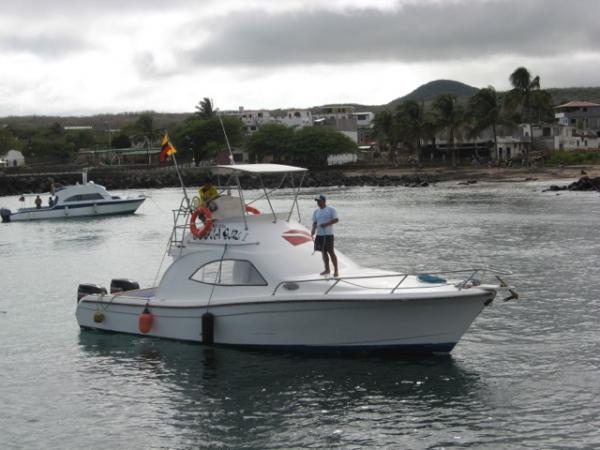 Today's entry is all about food. Even our small army of 6 (5 travelers and our guide) travels on its stomach. Sadly the key picture for this entry is fuzzy -- but I include it because it has the main message. All the Time Seafood. And that's not just at Betsy's Aloha Restaurant! There wasn't a day when I didn't have fish or shrimp or lobster or sometimes all of them. The food in Ecuador is always fresh and beautifully prepared. Simple was always best: grilled lobster, grilled fish. On Santa Cruz island, fishermen were cutting and preparing seafood for sale on the dock -- attended by sea lions and pelicans waiting for handouts. Lobster season had just opened, and I actually ate one of the lobsters shown in the picture that evening at the Garrapatta restaurant.
Accompaniments to the seafood always included plantains, sometimes fried yucca, salads and soft delicious rolls and bread.
Did I mention the juices? Everywhere we went, the first thing we were offered was a glass of press squeezed juice -- mango, papaya, pineapple, orange, naranjilla (like a citrus?), and my favorite raspberry. Raspberry canes and guava plants are invasive and crowding out the native miconia plants so Oswaldo, our guide, said we were doing a service by drinking as much raspberry juice as possible!
We were taken to farms for lunch on Santa Cruz island and Isabela, shown in the pictures. Tropical breeze, soft humid air, restaurants open to the air. These places call to mind the scenes in Apocalypse Now where the French family is hosting dinner in their villa in the middle of nowhere in Vietnam. Same soft focus, otherwordly experience. On Isabela we were covered in mud from climbing Sierra Negra and I worried they wouldn't let us in! Happily the other diners had had the same experience and we were all outside. That's a story for tomorrow.