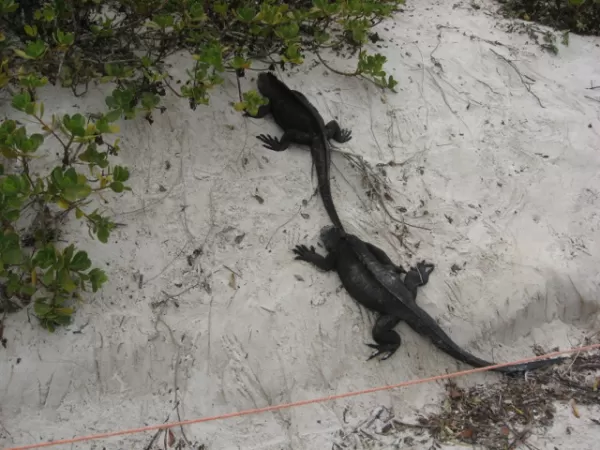 Today's adventure began on San Cristobal island in the Galapagos. We were fitted for wet suits and taken by cabin cruiser to the rock you see in the distance in photo 2. From the harbor it looks like one big rock, but close up it is two rocks with a channel between. It is the volcanic rock called tuff (ash which has hardened).
Before the rock, we snorkled in a spot that was calm and full of wild life. I don't wear fins (I get horrible cramps that make me unable to have fun), so I was sometimes behind the crew. I missed the marine iguana swimming, my one sadness in this trip! This was the first time I went off the side of a boat to snorkel. I felt like a member of the Costeau family.
When we reached the rock, only Roger and I wanted to jump overboard. The channel between the two is somewhat rough (I took in a fair amount of sea water), but the prize is the very deep canyon, at the bottom of which are sharks. Big ones. Because I wasn't wearing fins, Oswaldo held my hand to assist me against the current in getting through. We snorkeled to the other side of the channel and were met by the boat. In my six days on the islands, all full of magic, this was my favorite moment. The rocks, the channel, the sharks, the turquoise water, the sandy bottom, going off the side of the boat, climbing up the ladder. It makes me smile even now to remember it.
There were many birds on the rocks, nesting and circling. I took pictures but they are not my best. Better to buy the postcard as Alvis would say.
Nate, there were places to surf, and to rent boards (on all the islands, I think). Definitely there were local surfers. I can't speak to how good it was. The beaches are the most beautiful I have ever seen. But that's a story for another day.