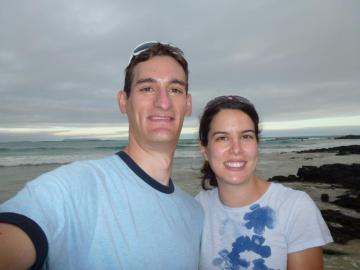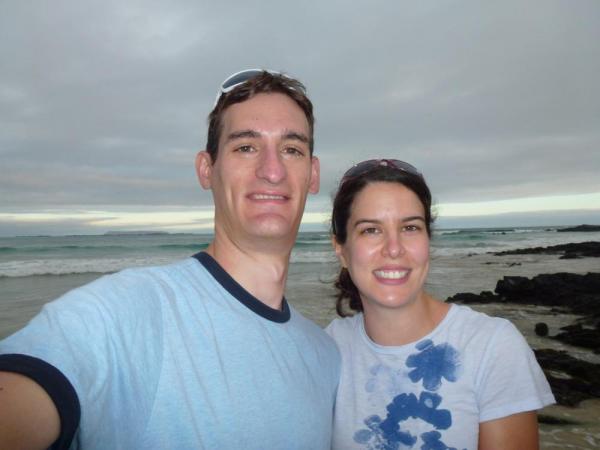 We got up early for a hike to a local beach- we ate our grapefruit we picked the day before on the way- no sugar needed! We saw multiple finches and started comparing beaks- just like Darwin. After breakfast at the hotel- I can't/won't stop eating fruit we head to the Charles Darwin Research Station. We are lucky enough to arrive at feeding time- the tortugas busily chow down. We learn about the breeding program and the efforts to rebuild the different subspecies populations. We 'awww' as we learn about 'Lonesome George' and the unsuccessful (so far) efforts to breed him.
We take a small plane to our next island- Isabela- the largest island. We head into town for lunch at a local restaurant- Richard orders for us. It is customary to start with soup- with popcorn in it. Next is my first encounter with octopus- it tastes good, but I can't quite get over the texture- a little too chewy, but the shrimp are excellent.
We take a small boat out and see penguins- I forgot they could live at the equator! We get out at a bay and cross the lava rock, closely watching my step on the sharp rocks- I suddenly realize a 40 pound marine iguana is waddling in from the water two feet from where I stand. I hold still as the iguana continues to walk by- within inches- without giving me a second thought. We put on our snorkeling gear and after Richard tells us where to go- we see a dozen sea turtles hanging out. We head back to town and get our bikes. We head to the Wall of Tears and learn about the history of the island as a penal colony. Of course we see random tortoises as we walk around. We head back to the hotel for dinner and a stroll on the beach after. A beach bar opens out on a pier- the lights are inviting, the pina coladas and mojitos make a perfect ending to the day.