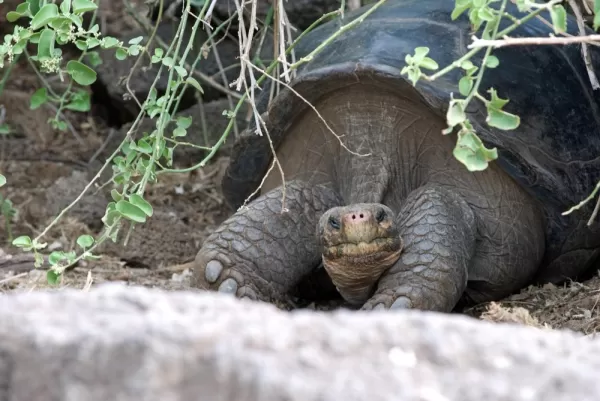 9:38 AM
As Adam put it, "Aside from the occasional dog fight, pre-pubescent kid screaming, and drive-by mariachi band, I had a pretty good night's sleep." All kidding aside, the bed was very comfortable, the temperature perfect, and besides the occasional city noise in the night, the Hotel Eugenia was just the place to stay for a good night's rest.
I'm writing this entry as we wait for our second leg of our flight. We are currently in Guayaquil waiting to reboard our flight to the Galapagos.
Thank goodness for our appointed AdventureLife guide that brought us to Quito Airport. If it wasn't for him, we would never have known the proper procedure for getting our bags pre-screened before getting our boarding passes (a requirement to travel to the Galapagos). Also, he was a saint in helping us get to the front of the line for boarding passes when it seemed that the lines were just not moving. Come to find out, it wasn't that the lines weren't moving, it just happened to be that the people in front of us were tour guides and were checking in 20-40 people at a time. Do not try handle the Galapagos flight arrangements on your own, let AdventureLife take care of it!
I can't wait to get to the Galapagos!!
6:00 PM
After landing on Baltra Island, paying the $100/person park entrance fee (cash only), and collecting our bags, we met up with the person who was picking us up to bring us to the boat.
We boarded a local bus that brought us to a ferry which carried us across a small body of water to Santa Cruz Island. Once landing on Santa Cruz, we climbed into a pick-up truck and cruised approx 42 km through three distinct climate zones (arid, mix, and wet) with unique vegetation. To get from the ferry landing to Puerto Ayora (where the Millennium, our boat, was anchored) you traveled directly up and over the center of Santa Cruz.
We arrived in Puerto Ayora and headed down to a small dock where our panga (zodiac boat) was waiting to take us to the Millennium. The panga carried us out to our boat where we were shown to our cabin (#2) and told our lunch was waiting for us.
After eating a quick lunch of beef and rice, we started to meet some of the other passengers on board, as well as some of the crew. We found out that there were thirteen other passengers on board from all over Europe and North America. The Millennium had passengers from England, Germany, Belgium, Italy, Canada, and the USA on board.
After brief introductions, Jaime, our naturalist guide, explained we would be having a dry landing on Santa Cruz to go visit the Darwin Center and see giant tortoises and the famous Lonesome George.
Let me pause here from telling about the day's events to explain what was meant by a dry landing. During the course of our time on the Millenium, there were two types of landings (disembarkations) we had: dry and wet. As their name suggests, one involved staying dry when getting off the panga, while the other involved getting wet. Both types of landings were quite easy, and the most you ever got wet during a wet landing was below the knee. The main reason these landings were explained ahead of time was so you could plan on the appropriate shoes. Anyway, now back to our trip...
Two pangas brought the Millennium's group of 15 to Puerto Ayora. We boarded a bus that brought us approx 1 km to the beginning of the Darwin Center. From here we hoofed it up to a pen that contained several giant tortoises.
Looking into the pen, the actual size of these gentle giants just took my breath away. I mean, I had seen numerous pictures of these guys and several videos on TV, but when I first laid eyes on these tortoises it was unlike any animal I had seen before.
Jaime let us know we could walk into the pen to get closer to these animals. We walked through a gate and were able to walk down to interact with these walking pieces of history. Did you know that some of these tortoises can reach a ripe old age of 160? Imagine the stories some of these guys could tell...
After spending 20-30 minutes with these creatures, we begrudgingly left the pen and continued on our tour of the Darwin Center. We saw several different types of giant tortoises (including the babies), Lonesome George, and a few land iguanas before walking back through Puerto Ayora to the dock. We had some time to shop in town before we boarded our panga and headed back to the Millennium for the night.
Next day - Santa Fe and South Plaza Island