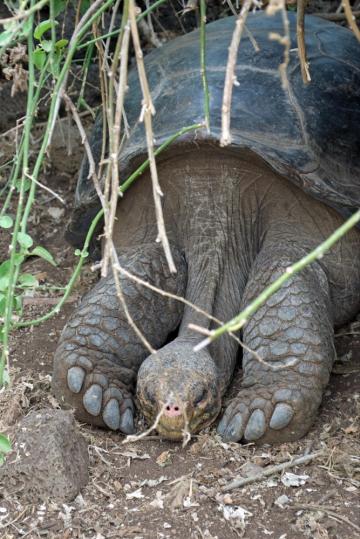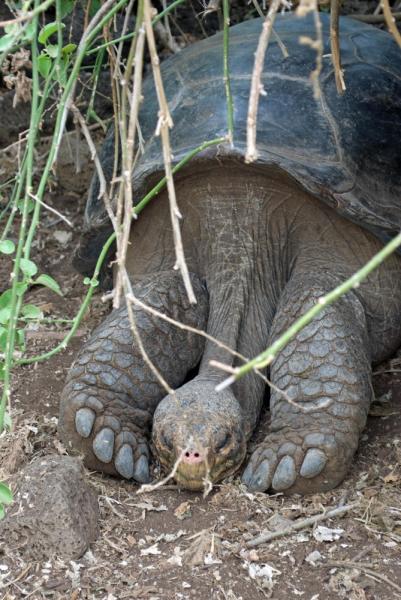 11:45 AM
What a morning!! If we had to leave today, I would already say this trip was well worth it. I just can't believe what we saw today!! Let me tell you about it.
After a wet landing at Rabida Island, the action was quick to come to us. We were all standing around the beach drying our feet, when a small marine iguana went scurrying between Adam's legs and ran smack into the foot of our boatmates; the marine iguana didn't even slow down. It continued to run until it reached some snorkeling equipment that had been left on the beach by a group that had arrived 15 minutes earlier. At this point, it found itself a nice little place to hide in the foot area of a flipper.
Not a moment later, as we were wondering why this iguana would run right at us, a Galapagos hawk swooped in only a few feet above our heads and perched itself right above the snorkeling equipment, on a cliff about six feet off the ground. We then watched for the next 20 minutes as the hawk jumped to the ground, started looking in all the equipment, found the flipper and the iguana, shook the iguana out of the flipper, killed it, and took it away to feed its young.
I have never in my life witnessed anything like that, nevermind from as close as twenty feet. Before this, the only time I saw anything hunted was on the National Geographic Channel. What an amazing experience!! Adam got the most amazing picture of the hawk with the iguana in it's beak!!
There were many other interesting sites on Rabida Island, but after seeing that hawk hunt down that iguana, it seems dull in comparison. After walking around the island watching sea lions and blue-footed boobies we headed back to the boat to prepare to snorkel.
Once we were ready, the panga brought us over along a cliff face where we dove in and started to explore the underwater wildlife. About fifteen minutes into snorkeling, Jaime got everyone's attention by yelling "Manta!! Manta!!" Adam and I quickly swam over to where he was and looked down. Approximately ten feet below us, I saw this large dark mass. It took me a minute to focus before I realized that this dark mass was a gigantic manta ray gliding effortlessly through the water. This giant creature of the sea was approx. ten feet wide and simply stunning!!
It wasn't long before the manta swam out of view and we headed back to the boat for lunch and now we are waiting until we arrive at our next destination: Santiago.
6:25 PM
This afternoon, we had a wet landing on Santiago Island. This area is known for its large population of marine iguanas and fur seal sightings.
We hiked up a trail away from the black sand beach we landed on over to the rocky outcroppings where we found the marine iguanas basking in the sun. It was as if we were walking into Godzilla's nest with all of the babies running around. The new version of the movie must have used these guys as a model for Godzilla's face, because the resemblance was uncanny.
Jaime explained to us that in order for the marine iguanas to eat underwater (the only iguanas in the world to do so), they must bask in the sun for hours on end to regulate their body temperature. We had arrived right at the time when most of the larger iguanas were making their way back to the black rocks to warm up before the sun set. They were all over the place, intermingled with a large population of Sally Light-Footed Crabs.
We continued to walk down this rock beach until we reached what looked like a natural well, only much wider. There were small ledges on the walls of this well and resting upon them were three fur seals. To add to this picturesque scene, a green turtle just happened to pop its head out of the water for a breath at the bottom of this well. What a sight!!
After finishing up our hike on Santiago, we snorkeled fom the black sand beach. There was an assortment of parrotfish, a few cow-nosed rays, as well as a few white-tipped reef sharks thrown into the mix of wildlife on display at this beach.
Thirty minutes later, we were headed back to the boat for our debriefing, dinner, and a good nights sleep before our next adventure.
Next day - Bartolome Island and Seymour Island