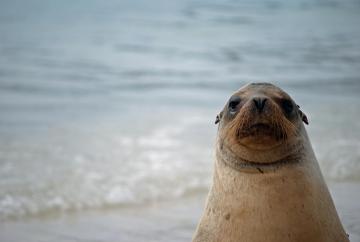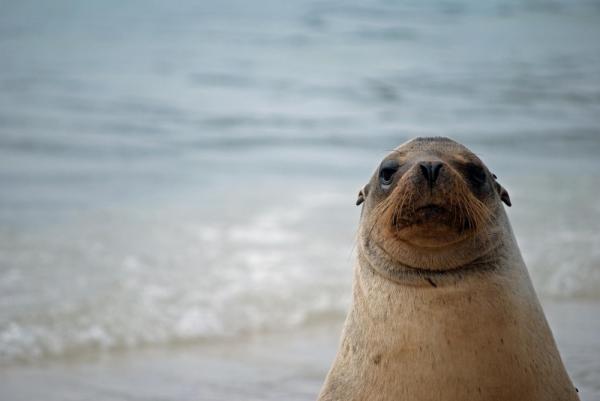 That's right, I said Sea Wolves. The people who live on the Galapagos call sea lions 'Lobos.' The translation for Lobos is wolves, so I guess if I stretch it a bit, we swam with wolves... I know, I know, it's a bit far-fetched but let's forget about that and talk about the day.
10:15 AM
We had a wet landing on Floreana this morning. Cormorant Point used to have thousands of flamingos, but like Rabida Island, the lake is dying, so we only saw three. What I found to be the most interesting part of the island was the fact that we were surrounded by around 50 dormant volcanoes, far more than any previous island we had visited.
Towards the end of our visit on this part of the island, we visited a beach where the green sea turtles nest. Even though we did not see any turtles, we saw evidence that one had nested the night before and had left. We didn't see any babies hatching since it was daytime, but I guess if we had they would have been eaten by the frigate birds circling overhead. So that was a good thing.
Right now, I'm on the boat preparing to go snorkeling for the second to last time of our trip.
5:14 PM
Ahhhh, there's nothing like a Galapagos Sunset from a lounge chair on the top deck... It doesn't get much better than this.
During our first snorkeling session of the day, we saw some sea turtles and a couple of penguins. The penguin sighting was unusual at Floreana due to its warmer water.
After lunch, we had a wet landing at Post Office Bay where the crews of multiple ships were playing soccer. We walked over to the Post Office Barrel and started going through the mail looking for any post cards that were close to our home.
(Post Office Bay contains a wooden barrel that travelers put their post cards into. The way it works is travelers arriving look through the existing post cards and look for any that are near where they may be going. If there is one, they take the card with them and hand deliver it to the recipients)
We found two post cards that were less than twenty minutes from our home. I took these and plan on delivering them with a picture of the Post Office.
After dropping off our own two post cards, we headed back to the beach for our last snorkeling session. We walked into the water from the beach and were greeted instantly by the local sea lion population. I have to say, without a doubt, that the sea lions here were the most playful we had seen on our trip. I almost got a few kisses!!
After snorkeling for about thirty minutes, we climbed back onto our panga and headed back to the boat. Adam's napping next to me as I take in the last sunset that we'll witness on the Galapagos.
Next day - Santa Cruz and Quito