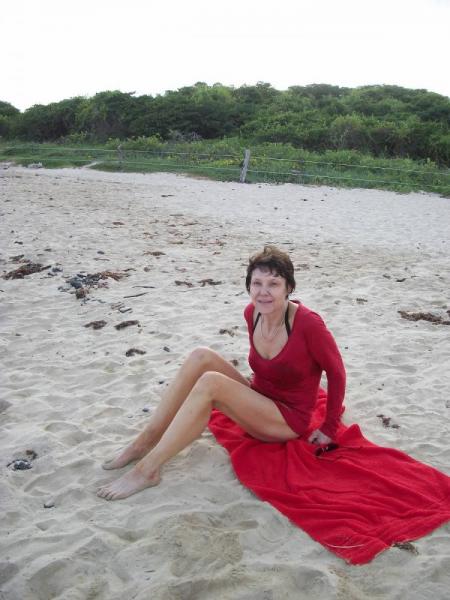 We were met in the morning by a very nice and articulate Adventure Life representative who took us to the airport. He walked us through all the paperwork and luggage inspections required to get Galapagos. He made a lot of suggestions that were very helpful - such as purchase a couple of bottles of wine at the Duty Free Store. It was really reassuring that we didn't have to worry about language and he seemed to know the airport personnel well.
There was some delay getting on the plane because of bad weather in Quito. Planes travel from Quito to Quayaquil and then to the airport on Baltra. But, there were lots of people in the same situation and the airline staff broke out snacks.
Once on the plane to Baltra, we had a great flight and landed promptly. The airport at Baltra is easy to navigate and we were quickly ushered through the entry process where you pay your park fee and have any carryon bags inspected.
We were pleased to be met by a very nice driver who we saw promptly. He got us quickly onto a very crowded bus and took care of our bags. It was a bit of a crazy ride to the ferry that takes you to Santa Cruz island. At the ferry, the driver put our bags on top of the boat and paid our fare.
After the ferry landed, he whisked us to his truck and drove quickly over the terrain. Santa Cruz is dotted with small houses and farms in a variety of colors and shapes. There are chickens everywhere and a lot of grazing cows. The moment you set foot on Santa Cruz, you realize that you are in a different world. We drove by white painted churches with names scrawled on their fronts and viewed the hills and volcanos in the distance.
We also drove through the quaint town of Bellavista and then into larger Puerto Ayora. Our driver got our bags into Adventura Lodge and they quickly checked us in because we were late. After a quick lunch, we were off to our first adventure.
We met our guide Qwan who was with us for the next few days. He had a great sense of humor and was extremely knowledgable.
After lunch, we went to beautiful El Garrapatero beach. It was fairly warm and we swam and waded in the beautiful clear water.
Dinners and lunches were buffet style at the lodges we stayed at and that worked out well because I am a vegetarian. There were always plenty of vegetables and fruits and they are very safe to eat because the water is filtered.
After dinner, we stayed on the beautiful deck facing the port, which is surrounded by the lights of hotels and small fishing boats. We also visited the Coco Bar across the street, which features a female mannequin in a blue suit, high heels, and a top hat. You can sit outside on rock couches and chairs and have a pre-dinner drink or night cap.