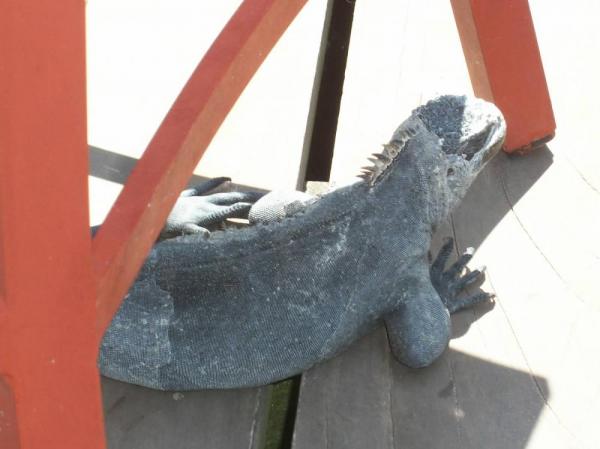 We met Igor early to board the Chevato to take our morning excursion. After a short drive through town, we stopped at a quarry to see the flamingo. There were several of these beautiful birds along with some ducks that were unique to Galapagos.
We then drove toward Love Beach and had to stop abruptly because Iguanas were using a rope across the road as a bridge. It was literally an Iguana parade passing in front of us.
As we entered the woods that pass behind Love Beach, we were treated to beautiful water views and then we had to stop abruptly again because a small Giant Tortoise was in the road in front of us. People jumped out to take pictures and eventually he went to the side of the road so we could proceed.
Our truck stopped at the Wall of Tears - the sight of a former U.S. Military base. After it was abandoned, police from the main land attempted to build a penal colony on this remote island. The prisoners were brought over to build a large containment wall. They lived outside and were subject to exposure and disease. They carried large, sharp rocks to the site and began erecting the wall. As prisoners died, their bodies were thrown into the wall. It was never completed.
An attempt was made to contain the prisoners based upon the volcanos. The prisoners were very dangerous and some escaped, harming the people of the town - killing and raping. Igor said that a prisoner and a police officer still live in the town, but they do not talk about the wall of tears or the penal colony - it is just too painful.
We were taking to a very beautiful viewing spot where we could look out over the island. It was bittersweet in that we knew were leaving beautiful Isabella after lunch and heading back for our final night at Santa Cruz.