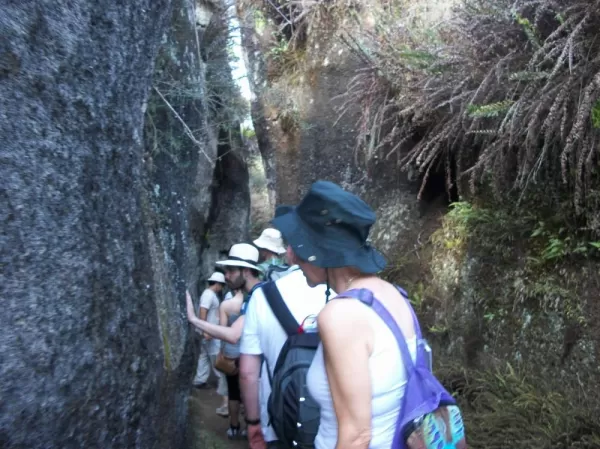 We were introduced to our new guide Igor the night before we left for our hike to the Sierra Negra. We boarded our Chevato and started the long ride with only three other hikers and our hotel representative. It was a long and scenic ride up twisty mountain roads.
We arrived in a drizzle and I thought- What dumb Americans - we are the only ones without rain gear. All the other hikers where neatly outfitted, but we were in shorts and tees. At the start of the hike, we were pretty wet in the mist, but as we climbed higher I became glad we weren't lugging gear. It was becoming hot and steamy!
It was definitely an uphill trek on a trail that was deeply rutted by horses. But as we reached the top, we began to see the beautiful views of the volcano crater and that made it all worth while.
We ate a box lunch under the trees with Finches fluttering around us, looking for crumbs. On the trip back, the mist had cleared and we had even better views of the volcano.
Tired and happy, we were surprised to be informed that we were getting a second lunch at a local farm. Once there, we ate some wonderful flavorful Papaya and Banana in a sweet sauce that I long for to this day. It was just so fresh! We also enjoyed the salted popcorn in soup that Igor and our hotel representative promoted. It makes so much sense, but was something we would never have thought to do.