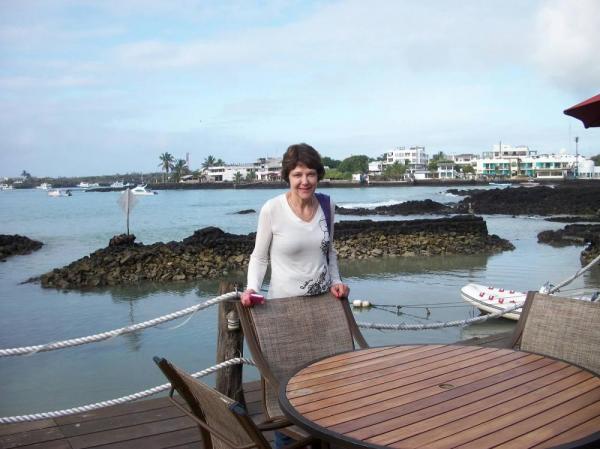 In the morning, we had a good country breakfast at the same restaurant as the night before with good fresh butter, yogurt, cereal, fruits and eggs.
Afterward, we climbed aboard our Chevato to make the trip to the Peace Asylum. Qwan told us that these open vehicles were named after female goats because they could go anywhere and because of their lurching movement. The trail to the Peace Asylum was up hill and steep. We passed the scenic island graveyard with the beautiful above ground crypts and crosses - no one is like the other. Along the way there were men mending fences for cows in the hot sun and we mused at what their lives were like in such remote conditions.
Once at the Peace Asylum, we hiked to the caves that were occupied by pirates. One was outfitted with a chimney for a stove. The caves allowed the pirates to see far and wide.
Qwan showed us some crosses on the rocks that indicated someone had died there. He said that one represented the dentist's death and that Dora fed the vegetarian doctor a spoiled chicken that killed him, but she ate the same chicken and lived! So, it was a plot by Dora to do away with him.
We saw the giant tortoises within the Peace Asylum. They are gathered within a stone fence and their eggs cannot hatch in this environment. They are not indigenous to the island and they will eventually die off. They were brought to Floreana as a gift to one of the early settlers who arrived on the island pregnant. When her child was born, the baby tortoises were brought as gifts.
We were soon off on our boat trip to Isabella that took about 2 hours. We saw Blue Footed Boobies on our way.
Once at Isabella, we had lunch. We stayed at a beautiful lodge right on the ocean. The beach was pristine and the water blue. It was a nice romp in the waves!
After lunch, we visited the marine iguana breeding ground in Tortuga Bay. On this lava crusted island, you can barely walk without disturbing these animals - they are so ugly; they are cute. Red crabs dot the rocks.