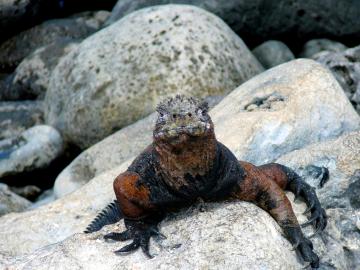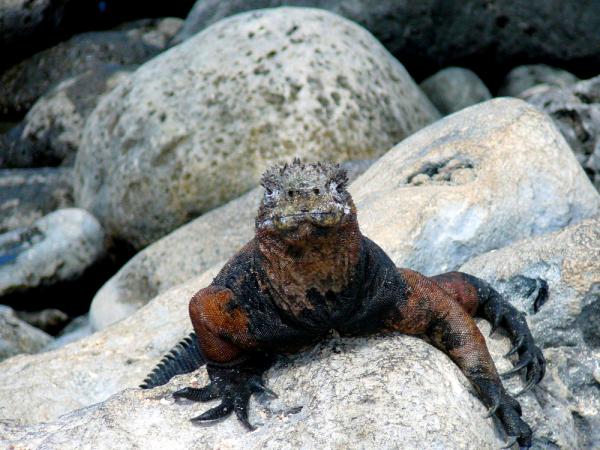 Today we started the day by hopping in the boat and heading to Santa Cruz. We stopped along the way to snorkel. We swam with sea turtles and a variety of fish. Once we got to the island, we hopped into kayaks and headed out to sea. The water was quite rough and the going was much more difficult than the previous day. My aforementioned dinosaur arms managed to hold out and we ended up in a little lagoon that was one of the most beautiful places I have ever been in my life. There was no sound other than the waves outside the lagoon. It was so peaceful and the water was a beautiful shade of greenish-blue. The water was still and we all just floated around in awe for a while. We also managed to have a snack while we sat in peace. It was pretty cool eating Oreo cookies* hanging out in a kayak in a lagoon. We saw an adult and a baby heron and managed to get quite close.
On the way back, we were out in front of several of the other kayaks. They couldn't figure out why we weren't going in a straight line. In fact, we were trying desperately to go in a straight line, however the waves were too big. It felt like for every one stroke forward we made, the waves sent us two strokes backward or sideways. So, we were kayaking in a zig-zag, up and down the waves and it was hard going. I believe there may have been some yelling going on; fortunately for our marriage the waves were too noisy for us to hear each other. But, we made it! Our guide told us about a little lagoon area we could go if we weren't too exhausted. Riding on the high of kayaking in the ocean and surviving, we headed through the mangroves to the lagoon. Three other members of our group and about six children from the area joined us. The children were jumping off a small deck into the water. Simon took a few of them for a lesson in kayaking, which they seemed to enjoy.
A few of us met for a drink before dinner and ate the most delicious empanadas ever. Then, most of our group decided to disregard the warnings of eating off the beaten track and we headed to where the locals eat. We were given a cherry beverage of some sort, which none of us enjoyed. Then, we all had what we hoped was a chicken dish for our main course. Post-dinner conversation determined that perhaps we should have stuck in the tourist area. We did have a lot of fun though and it was all part of the adventure. And, fortunately, contrary to the dire warnings of the others in our group that did not eat with the locals, we did not spend the next day locked in the bathroom.
* According to our guide, Sebastian, Oreo cookies are America's favorite cookies. Given the fact that he knew the answer to pretty much every question he was asked, who were we to disagree?