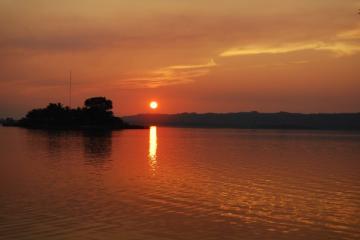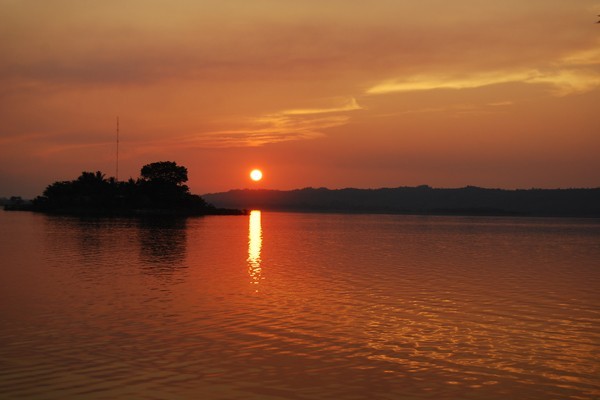 "Today we are off to Ixpanpajul, a private nature reserve about 10 kilometers from here where we plan to walk through the jungle on suspension bridges. We're hoping to see lots of wildlife." That's what I would have written if I were writing this before we went. Since I am writing it the day after I can tell you it was an adventure – but not because of the wildlife.
The hotel arranged our transportation to the park, and then dropped us off, planning to come back and get us about 12:30pm (the drop off was at about 9:15). Oh, plenty of time – maybe too much we're thinking… Well, it wasn't too much. The walk was quite strenuous…walking across the suspended bridges was a breeze compared to hiking up the mountains and down the mountains on very rocky and uneven trails. There were steps, but I am not sure if it made things easier or worse.
We didn't see any animals, which was the big disappointment for me. We could hear plenty of birds and insects, but we saw nary a one. The vegetation was very thick in most places, but even the shade didn't mitigate the heat very much and we stopped as often to cool down as we did to rest. When we finally arrived at the "mirador" where there was nothing but views and warm bottled water, we decided that Marshall and Juanita would take a truck back to the base. I wanted to continue since it was all downhill from there and I still had hopes of seeing something. Gerry accompanied me. Juanita and Marshall probably would have been better off staying with us as they had to descend a leaf covered trail that was quite treacherous to get to the pick-up point, and we had one last suspension bridge and then steps down, down, down to a nice road that is used for those who opt to go through on horseback. We saw almost no wildlife – just a pair of woodpeckers and a horse in a field.
Back at the main entrance, Marshall, Juanita and Gerry each had a beer and we laughed at the monkey who was in the dining room up on the rafters. Apparently, he is well-known to the people who work there and is well-known for being misbehaved. He lives on a little island about 100 yards from the visitors' center, and was chased back there and assisted across the moat with a wooden plank bridge that had obviously been used many times before for the same purpose. Both monkey and employee seemed to know the drill by heart!
Back in civilization, we cleaned up and went to Capitan Tortuga for lunch – pizzas and beer! Then it was naptime (need I say again that the heat here is incredibly draining!). Juanita took off for an adventure of her own to have her hair done is Santa Elena via tuk-tuk! The hairdresser actually came to Flores via tuk-tuk to pick her up! All in all, tuk-tuks included, she spent less than $7. Can you beat that?
Our evening's entertainment involved a bottle of wine and a boat ride on the lake at sunset. Sound nice? It was. Our boat driver was very informative and we really enjoyed the sightseeing around the lake. The water was very calm and the air out on the lake was cooler (note: not cool) and refreshing. The driver dropped us off mid-bridge and we walked to the Santa Elena side to try Pollo Campero (the local version of KFC – now in 28 countries!) I hate to say it, but it was one of the best meals we have had in Guatemala – the food here has not been very good (and I remember that from my first trip here too). We have had really good food, but always in very exclusive restaurants, ie Casa Santa Domingo and Meson Panza Verde in Antigua.
After Pollo Campero we walked back across the bridge to Flores, stopping in the middle to get Ice Cream from Sarita – purported to be great ice cream. It was! But it melted so fast in the heat, that we really had to eat it fast! Once again an early evening, Marshall and Juanita are leaving at 7:00 in the morning.