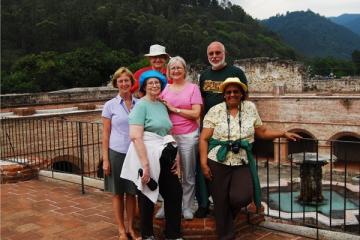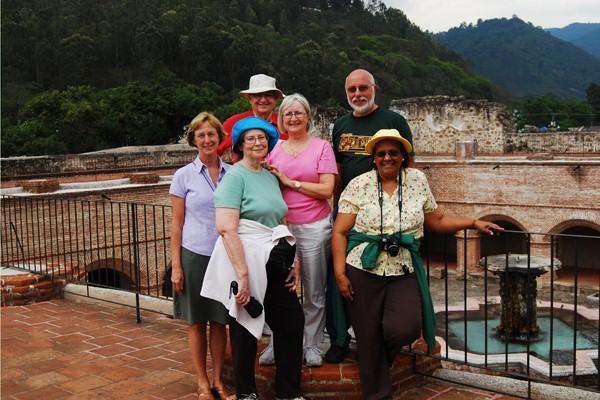 It's 4:30 am on a Saturday morning in Antigua - and we're both awake. (Of course, in Puerto Rico, it is 6:30 am already - which is our normal getting up time.) We try to fight it and go back to sleep but by 5:00am we're dressed and out the door to take photos of Antigua in the early dawn.
The light is beautiful and we really see a lovely sleeping town, with volcanoes swathed in clouds, the sun just beginning to rise and only the earliest risers out on the street (almost no one!).
We walked for about 2 hours - making it all the way to the market to watch it being set up. It was wild by the time we left - everyone scurrying about setting up their stalls, fruits and vegetables being unloaded (I saw some of the biggest carrot and papayas I have even seen in my life!). Lots of people - but not as many as there will be by mid-morning! Gerry got some great shots of huge sides of beef being unloaded from the back of a truck. Despite the fact that we were OBVIOUSLY the only people there who were not local, we got a lot of smiles (and some good pictures).
We picked up a very "simpático" pooch (I should say he adopted us) and he kept us company for the entire walk until we returned to the Central Park and Gerry forbade him to follow us any further.
By 7:45 we were having breakfast (I was starving) and ready for another nap (that's where Gerry is right now). Today we plan to take the "hike" up to the cross - even though it is cloudy, and looks like it will rain, I don't think that is an activity that the rest of our group will want to do.
We expect to see the rest of the group and officially start our adventure this afternoon.
We left the hotel about 9:45am to go do the climb up the Cerro de la Cruz. It was sort of sprinkling but not cold…yet. We asked several official-looking people where to find the correct police station to get the escort up the hill, but we got conflicting instructions and even some blank looks. Since it had started to sprinkle harder, we thought we might abandon the idea so we went to the Tourism Office which is right in the same street as our hotel.
There, they told us we could walk to another point and meet the escort on their way up the hill. It was past 10:00am by now, so too late to get to the station, but we decided to give the rendezvous point a try (it was just a couple of blocks away).
Meanwhile, the weather is going all through the spectrum: it's warm, we take off the sweaters; it starts to rain, we cover our heads; it stops raining but now it's cold so we put the sweaters back on…then start over again. By the time we get to the rendezvouz point we're standing sheltered from the rain, waiting for a walking group (that's what I remembered from two years ago).
They came in a truck! Yeah! That walk up the hill is strenuous! We drive a curvy road to the top. I was comfortable in the cab with the two officers and two college students. Poor Gerry rode in the back of the pick-up (in the rain).
At the top we had 20 minutes to look at and take pictures of the view. It was raining – but we did our best to try and get some pictures. Much of the majesty of the view was obscured by fog around the edges of the city. In the rain, 20 minutes seemed like forever so we walked back to the truck – but then the rain stopped! So we hung out, talking and taking pictures. Gerry started up a conversation with one of the college girls – this was their last day in Guatemala, having been there studying for the semester (they said their courses were too easy…). After a while we got tired of waiting for the college girls to be ready to go so we decided to walk back down on the path. Midway down it started to really rain – our only salvation were the trees of the forest that kept off some of the downpour.
Once out of the forest, there was really no hope of staying dry – but (light bulb on please!) we have our nifty $1.00 Coleman ponchos so we get them out and put them over our heads, backpacks, cameras and all – and though we look ridiculous – Gerry is bright red and I am bright blue – we're dry and able to keep on walking.
Mostly because walking in the rain is not really all THAT fun, we take advantage of a sign advertising a Museum and we go in. There was a lot of activity in the place which it seems is some sort of cultural center, but we paid for and decided to visit the museum…museums really because there are several interconnected museums on a walk through the remains of an old university building and convent.
It was great! We were actually entering the Casa Santo Domingo from the end of the museum walk! We got to see the museum of crafts of the area – very interesting! There were exhibits on ceramics and, of course, textiles and iron working, but our favorite was the "globos" or what we think of as balloons. These balloons were like miniature hot air balloons (the kind people fly in) made out of tissue paper and wire. At the base they would suspend a stick that was wrapped with a rag doused with some sort of gas. Apparently they would light the gas on fire and release the balloon into the air. It sounded so interesting and the pictures were fascinating. Something I would love to try or at least see in real life.
The museum tour continued through a beautiful gallery of contemporary art, and then into a wonderful gallery where Mayan artifacts were shown side-by-side with modern pieces in glass (Lalique, Costa Boda and other big international glass houses.) The legends explained the significance of various animals and symbols for the Maya (the English translations were very rough).
The museums give out into the gardens and the ruins of an old convent, now the Casa Santo Domingo Hotel which is stunningly beautiful. I have no idea what it costs to stay there – but for sure, a walk through the hotel is a must! We decided to eat lunch in the restaurant so that we could just sit and enjoy the place a little longer.
Fantastic meal! Not Guatemalan really in any way – but delicious and different. Gerry had agnolotti with three cheeses in a really excellent sauce (we don't remember the ingredients) with a steak on the side (good thing too because the portions were quite small). My plate was sea bass with a green pea sauce, a (single) scallop (the menu did say "viera" singular) and a single ravioli made with squid ink and filled with a red pepper puree. Everything was great and we really did fill up despite how small the portions seemed.
After lunch we left the hotel and walked outside.
Now the sun was out and it was hot again (off go the sweaters). Walking along casually enjoying the warm sunshine and being in Antigua, I suddenly hear Gerry gasp audibly! What??? Off to the left, the volcano has appeared from behind the clouds and it is spectacular. We spend quite a bit of time trying to get some good photos of it, but I really wonder if any picture can prepare someone for seeing the real thing – right there – and so huge!
We wandered back to our hotel to try to get a nap in before the arrival of all our friends. I made the mistake of reading for a while so that I had just barely drifted off when Gerry announced "They're here!"
It was great to greet everyone – especially Fran and John who we had not seen in at least a year! Joanne we had dropped of the day before in Guatemala City and we had actually seen Juanita and Marshall just recently in San Juan, but it was exciting to have the group all together after all the anticipation!
They were tired, just as we had been the day before, so Gerry took them out for a quick money change before they came back to the hotel to rest.
By 6:00pm everyone was ready to go out, so we got dressed for dinner and decided to take a walk before our 7:00 reservation. The walk took us down to the Parque Central – volcanos visible now, and then up to La Merced church. We were all hungry – so we headed to the restaurant "La Fonda de la Calle Real" where our table was ready. We had a nice dinner – some people ate "pepián", a traditional dish made with chicken and potatoes and some of us had something called "suban iq" – a dish with chicken, pork and beef in a special sauce. Tasty – but filling after soup – and all that proved too much for us to be able to enjoy our dessert: a very sweet "mole" topping fried bananas.
After dinner,to bed,I was ready!