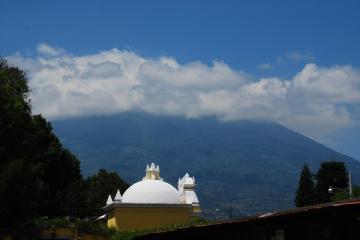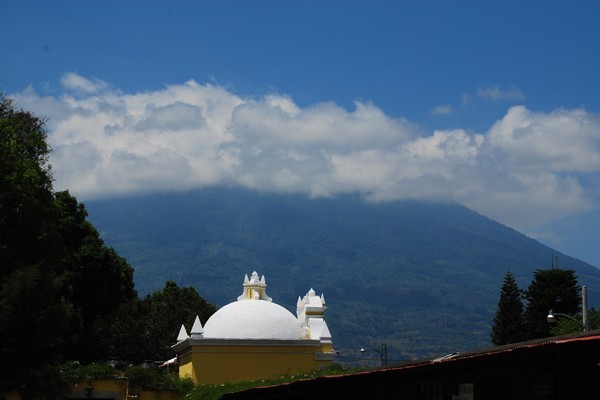 This morning we got up early again, though not as early as other mornings, and went out to watch the sun rise. We had breakfast on the upper terrace, outside, just enjoying the volcanoes in the sunshine.
We checked out of our hotel in Panajachel at about 9:00am and began a slow trip back to Antigua. Just near the summit of the mountains surrounding the lake, we were able to get out of our little bus and take some pictures. It is so beautiful! It is impossible to tire of looking at it.
The trip into Solola took less than a half hour. It was when we got there that I discovered that Marchall is ill. What he has and what to do about it will be the speculation of the day – everyone has an opinion! For certain, he feels rotten. He had to stay with the bus, and Vinicio took us into the central plaza of the town. The market is all around the central plaza and into the side streets. It is very, very colorful! The day is beautiful, so after a short history lesson and explanation from Vinicio, we're off on our own through the market.
I am not really shopping today. Not really. I am trying to take pictures of the natives. Even the men here are in native dress and it is fascinating to look at all the varieties of cloth and colors. I am "shooting from the hip" as we say. My camera is around my neck and I rest my folded arms over it. Set on automatic, I just turn to face whatever I want to photograph and push the button. Sometimes I get feet and sometimes the tops of heads, but quite often I can get people just doing what the do in the market and they are not aware that I am photographing them.
When I do buy something, I ask the seller to pose for me, and this way I get some of the biggest smiles. I always tell them I like to remember the people I buy from and whenever I can I show them the picture I take. It is really fun. The people in Guatemala are very friendly and open when you show them the same friendliness and openness. It is so hard not to fall in love with this country.
After the market, we made another shortish hop to the ruins at Iximché, a post-classical Mayan site (Tikal is pre-classical). The site is relatively small – 4 plazas and not huge ones – but there are also two ball courts and the site is preserved in such a way that you can almost feel as if you had stumbled on it – just like this – when it was discovered.
Interestingly, there were Mayan families at the site performing rituals at the last altar area – what historically had been an area of spiritual retreat and ceremonies for the spiritual leaders themselves. When we arrived, two families were preparing alters for offerings, and evidence of earlier ceremonies conducted today were marked by still smoking altars and charred chicken bones.
The place was quite special, and for me, worth a side-trip to see.
After Iximché, we stopped at the same rest stop we visited on the way to Panajachel, but this time for lunch. The food was good and filling, and after that we were on our way back to Antigua in the longest part of the trip which might have been an hour. I think I was sleeping. I know I was relaxed and happy and before I knew it we were back at the hotel.
Marshall is really under the weather and we are all concerned about him. He's worried he's being a burden, which he isn't at all. We just wish he could feel better.
Joanne, Gerry, Fran, Juanita, John and I went out looking for a light dinner at a pizza place I went to with the Wayland kids. We went out with just a vague idea of where it might be (and my sense of direction is notoriously bad!). We did stop and ask someone on the street – and so got the name "Queso y Vino" but alas it was closed for "descanso" . Instead we went to a place across the street called "Tapas y Vinos" (close enough?) and had beer and tapas. The name was a bit misleading, but there were a couple of tapas on the menu – so those are the ones we ate. No one was very hungry and it turned out to be a perfect, light dinner.