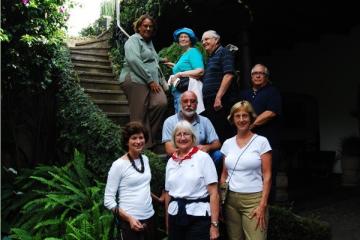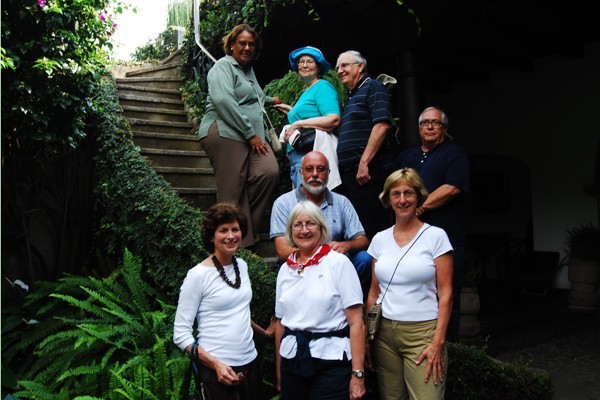 We all ended up getting up early despite our tiredness and intention to sleep as late as possible. We're all on a different time still. Gerry and I were awakened by our neighbor shouting into his cell phone at 4:41am. I tried to be serene just lying in the dark and thinking about the day ahead, so we actually didn't get up until almost 6:00.
By 6:45am, we were all (everyone except John) gathered outside the breakfast room, awake and anxious to get the day and our tour underway. (Anxious for coffee is more accurate!).
At 8:00 we were checked out and in the lobby with our guide, Vinicio, and our driver, Antonio. We start a long but interesting drive to Chichicastenango. Vinicio is quite garrulous so we had an entertaining monologue for most of the trip. Lots of information about his life, about Guatemala, about the towns we pass through. Gerry informed him that we are "ardent feminists" who want to know everything about the lives of the women of the country – perhaps an exaggeration (the ardent part) but nevertheless we get the desired result: Lots of info about the lives of women in Guatemala.
The drive is long. We make a rest stop to use the "happy rooms" and wander around looking at crafts on sale and a whole group of motorcyclists who were there. There were also obnoxious American tourists, but what can you do! Maybe we seem like obnoxious American tourists to them!
Twice along the way we were stopped for construction. The road that is being built is going to be very nice – right now you have to get on and off gravel and cement – pretty dangerous with the chicken buses coming full tilt in both directions.
We finally arrive in Chichicastenango about 11 (and it seems like 2 in the afternoon!) Vinicio takes us out and around the market showing us different places in it: The produce market (which is inside a rather ugly pink gymnasium); the crafts market (of course) and the prepared food market – cautioning us not to eat anything!
It was not particularly crowded by my market crowd rating system but others in the group were overwhelmed by all the people. At one point we were caught right in the middle of a huge human traffic jam, resolved only by a lot of little old ladies pushing (not us). After our overview, we went back to the San Tomás Aquino Hotel for lunch.
Lunch was fine – the parrots in the lobby garden were squawking like there was no tomorrow. Apparently it was close to feeding time and they wanted to make sure no one forgot about them. There was also a marimba playing – and at times it almost sounded as the parrots were giving their opinions about the music. Once we finished lunch, we each hooked ourselves a local guide to take us through the market.
Gerry and I never did get the name of our guide, but he was very good. I would tell him what I wanted to look at and he would take me to his favorite vendors. We bargained and purchased, bargained and walked away – but altogether came back with a lot of nice stuff, most of which I will take to the "farm". Our guide also took us to see another very old hotel in the town the Maya Inn, which looks out over the cemetery.
The hotel was very nice! It had a down to earth, native and simple feel to it. The Tomas Aquinas seems almost Mediterranean. We enjoyed the view of the cemetery: The tombs are above ground and painted in wild, bright colors. It is very lively.
After awhile, even veteran shoppers can't take anymore of the vendors that hound you to death, so we raced back to the relative sanctuary of the hotel and waited for Vinicio. We all showed each other our purchases and just tried to wind down after the stress of the market. (I was sipping Ron Zacapá Centenario.) When it was time to leave, we steeled ourselves for the attack at the door that, sure enough, began the minute we appeared in the entrance and followed us all the way on to the bus! Poor Marshall was wading through hawking Guatemalans, old and young, with his hands in the air trying to get into the bus. It was comical for those of us watching – but no one offered to exchange places with him.
Prices were really going down as we got closer to leaving, and I was fortunate enough to snag a huipil I had admired for 100 quetzales or about $12.50 right before we closed the doors. It is a beautiful turquoise. What I'll do with it, I don't know, but I never pass up a bargain.
The drive to Panajachel was pretty uneventful, if you don't count the chicken buses, and we arrived close to 4:30. One descends from very high mountains down into the caldera where Lago de Atitlan sits at the bottom. It had started to rain as we left the market, and as we began our descent to the lake we were above the clouds. Once below we could see the water but there were too many clouds to see the volcanoes.
Gerry and I got settled in our room (which looks like and feels like the exact same room Jill and I shared two years ago!) and then waited until we thought it was close to sunset to see what pictures we could get of the lake…in short – none. There were too many clouds (and it was thundering). The view was still quite nice – storms are interesting to watch in their own way.
Everyone appeared early for dinner – we were all hungry? Hard to believe we can eat so much at every meal and still look forward to the next one! It was early to bed right after dinner (a recurring theme on this trip).