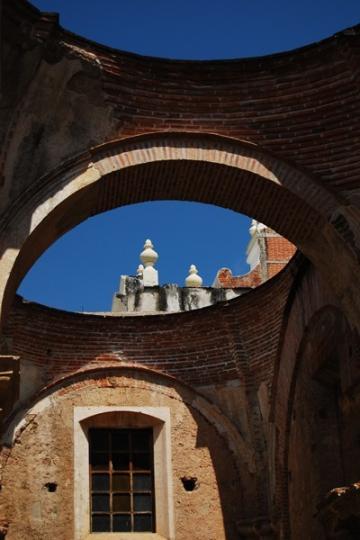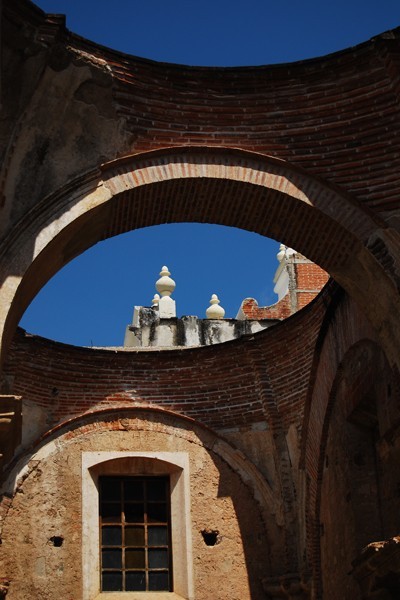 ("Panas" means "buddies" in Puerto Rico ... and Pana is the nickname for the town we're staying in - Panajachel)
Gerry and I got up at about 5:15 this morning (we are really having trouble sleeping in) but fighting it just doesn't seem worth it once it starts to get light outside. We went outside to a beautiful morning to take pictures of the lake. Everything was so serene…the lake was calm, no wind at all. We got some really lovely pictures once we left the hotel and went down along the beach. The sky was mostly clear and only as the sun came up did we realize that there was a haze that was hovering around the volcanoes. I wish I could describe what it is like to sit and contemplate three volcanos in the same panorama – without even moving your head! About 6:20am we went to the dining room for breakfast – Our view? The three volcanoes! Joanne joined us at breakfast – she too had been up for awhile and just as we finished Juanita and Marshall came in. Breakfast is included with our hotel rooms.
After breakfast and after getting cleaned up and ready for the day, I went out to the patio near the lake and checked my email, uploaded the journal and some pictures to Facebook. As I was sitting on the patio, a tiny hummingbird came right to the red flowers in a planter next to the table. He was less than three feet away. I didn't dare move to get my camera for fear of frightening him away. He returned again about 10 minutes later and this time I had my camera ready-almost! As soon as I shifted to lift it to my eye, he was on to me and off like a shot!
Before starting on our boat tour of the lake we walked up the main street of Panajachel to the ATM. The town was just starting to wake up – people were on their way to work and the shops just opening. A very pleasant time to be out people watching.
Once back at the hotel and reunited with the errant Marshall who had gone off in search of an ATM that would work with his Banco Popular ATH card…we headed to the beach with Vinicio – ready for our adventure aboard "Nancy" with our boat driver Benjamin. Our first destination was San Juan la Laguna, a "pueblo" of about 20,000 people on the southwest side of the lake just west of the San Pedro volcano. The boat ride was quite scenic – and just a little cold (not really enough to put on my sweater – but refreshing!).
San Juan is a beautiful town and well worth a visit. It is very tranquil, welcoming and clean. There are no urchins in the street selling wares – in fact there is no one on the streets selling wares! The streets are paved in bricks – everything very well taken care of. This town is known as the "town of the associations" for there are any number of cooperatives and associations working to create a sustainable tourism model for the towns around the lake.
We were very impressed. We visited a art gallery run by a group of artists; a cooperative of women who are midwives (comadres) and curanderas (healers) where we walked through a garden of plants grown for their medicinal properties; a yarn dyeing cooperative that works with organic dyes only (and what beautiful pastel colors!); a weaving cooperative that shares quarters with a school for what look like middle schoolers; a cooperative that works to restore the manual traditions of growing, preparing, spinning and weaving textiles of locally grown cotton. In each place, a very confident young woman explained the origins of each association and the work they do. We got to see everyone of them in action except the "curanderas" where, instead, we had the tour of the garden. It was a wonderful day – meeting many beautiful accomplished young women trying to maintain their Mayan traditions and history.
That was a full morning! We had to skip the trip to see the recycling co-op. In addition to these tours, the town also supports a cooperative that takes tourists out fishing on the lake and one that takes them on kayak trips through the reeds to see all the water birds and animals in the area. Before I leave the subject of San Juan la laguna, I don't want to forget to mention that we were accompanied all morning by a local guide, Raul, who was obviously very proud of his town and the townspeople. It was well-deserved pride. He was an excellent guide.
From San Juan la Laguna, we boarded Nancy again and headed to our lunch spot (I didn't get the name) but it was in a hotel in the bay behind the town of Santiago de Atitlán. Wonderful lunch, but the service a bit too slow for me and as such made for a long afternoon – relaxed as it was.
After lunch, we hopped aboard three tuk-tuks for a ride into the center of the town. Joanne, Juanita and I were squished into a space big enough for just 2 Guatemalans…but we enjoyed our ride immensely! Fortunately the trip to the center was less than five minutes and there were only two major bumps!
We were dropped off in the central plaza near the cathedral (I guess it is a cathedral because it is the only Catholic church in a town of 45,000. There are 23 evangelical churches in the town, too. The outside was curious – It didn't really look like any church I have ever seen and it had a huge set of stairs rising to the entrance. Inside it was also quite curious and the story Vinicio told us about it was fascinating:
It seems that the evangelicals, in their religious zeal, liked to destroy the figures of the saints that the Mayan people would keep on altars in their homes. To protect them from being destroyed, the major families moved their saints into the church…so in the side arches around the church (they're really just niches in the walls – large but not deep) are sets of family saints. Though they look like Christian saints, they are locally made, baroque statues that also represent Mayan religious figures. They are dressed – in real cloth robes and shirts – with headdresses when they represent spiritual leaders. Many wear scarves around their necks. This we have seen elsewhere and is a thank you gift from someone who that saint interceded for. Some have many, many scarves. Vinicio had told us about the Mayan princess who gave birth to the Baby Jesus, and his twin brother, and we saw a representation of her among the saints.
We also saw a crucified Christ – wearing the scarves and a headdress of flowers, typical of a Maya chieftan. He also wore a loincloth made of the fabric used for the traditional garb of the local men and an apron embroidered with flowers (like some of the men have on their pants).
The huge retablo behind the altar was also a mix of Mayan figures with Christian over- (or maybe under-) tones, including various carvings of corn and Maximon, the local "saint". Just to the right of the altar sits a version of the trinity – with God the father wearing the red head covering of the most senior shaman. The syncretism is extremely interesting but, according to Vinicio, the current priest is very conservative and has been dismantling and downplaying the Mayan side of Christianity and as a result the natives are not happy or comfortable with him.
From the central plaza we headed to the boat docks, walking through the town, in the rain. We visited a cooperative embroidery shop – where Juanita was looking to (and did) buy a "corte", the skirt of the traditional dress here in Guatemala. (The rest of us found things we liked too – the embroidery was exquisite).
By now, we are all in our rain ponchos and under umbrellas, and we return to Nancy for a wet and cold ride home. It sounds awful but it was really pretty fun – we laughed and joked the entire trip and before we knew it we were back in the Posada de Don Rodrigo here in Panajachel, tired and wet and happy.
A brief "happy room" break and everyone but me went to the museum that is here in the hotel. I had already seen it and was so pooped I was hoping to take a nap. Apparently I have been wise to avoid coffee after meals for the last 20 years. I couldn't even get to the sleepy stage (Like now. It's already 11:20pm and I am still typing away.) Finally I just got up and started doing things to keep me busy until Joanne came to pick us up for dinner. We met up with Fran and John in the lobby and the 5 of us walked all the way up Main Street to a restaurant called "La Casa Blanca". Vinicio met us for dinner but he arrived late, as we were ordering. Still for some reason, he was served first…go figure. We all managed to eat despite our late lunch and we enjoyed our Gallos and each other's company. We couldn't exactly enjoy each other's conversation, as Vinicio gave us another of his monologues during dinner. It was an interesting story about how he had to cast 150 Mayan natives for a movie and take them to Canada for a month, but I realized on the walk home that we had not been able to talk to each other at all during the meal, and that was a bit tiresome. We'll probably limit meals with him to those in our schedule from here out.
Once again, as soon as we got to the hotel, everyone was off to bed. We checked on our kids via email first. They're fine and our cat (who was injured right before we left) seems to be getting better though she has another appointment at the vet for Thursday. The boys leave Friday for Wisconsin and we won't get home until the following Wednesday, so I am a little worried about her.