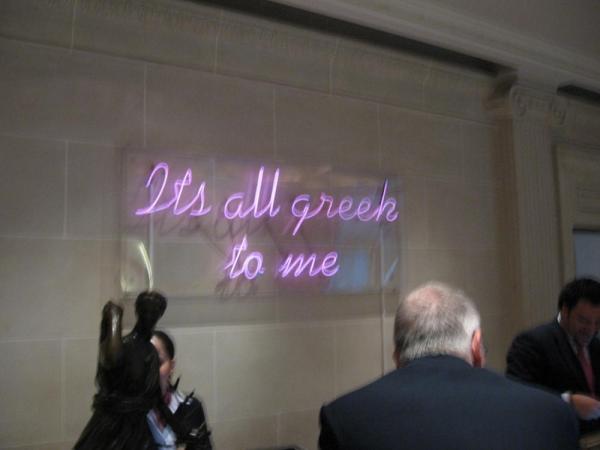 We arrived pierside to the industrial port of Tartus this morning. The Syrian Immigration officials boarded our ship including three masked health officers. These health officers watched us disembark to see if anyone looked like they had swine flu. Apparantly, they also brought a thermal camera to visualize our body temperatures as we passed, but I didn't see them using this.
We boarded two buses for the four hour drive to Palmyra. Our guide, Adib, lacked the sophistication and easy, informative style of our Turkish guides, but he still did his best to provide an overview of Syria along the drive. Each town seemed to have numerous billboards with a picture of the Syrian president and the flag. This newly formed republic was anxious to demonstrate pride in its leaders.
I was surprised by how many women were dressed in western attire. Though the population is 75% Muslim, only about 50% of the women had their heads covered and very few wore more than simple headscarves. Most were quite fashionable with coordinated outfits that matched their scarves.
Unlike Turkey where polygamy is forbidden, it is allowed in Syria. Having one wife is still the most common approach, especially in cities where the expense from two households can be cost prohibitive.
We drove through the mostly green and fertile hills toward Homs for a rest break. Along the way, we skirted the Lebanese border, once coming within four miles of the border crossing. Syria and Lebanon are on very good terms, both speak the same Arabic dialect and frequently have families living on both sides of the border.
After our rest stop, we continued to the Archaeological Museum at Palmyra. We weren't allowed to take photos inside, but we did see several statues from the site. We also saw a large scale model of Ancient Palmyra, a bustling city and caravan stop for camel trains along the Silk Road. It offered a huge agora for trading, a Roman style theater, Bel Temple (equivalent of Zeus), and lavish palace. Built around 100 BC, it was a mix of Mesopotamian and Roman influences.
We drove to the Semiramus Hotel at the actual site of ancient Palmyra and had a lavish buffet lunch. This included a variety of Mediterranean salads, soft cheeses, stuffed grape leaves, rice, potatoes, and a tomato dish with spiced meat (similar to the sauce on Lebanese beans and rice).
After lunch, we headed to the ruins of Palmyra. We visited the Bel Temple, Tower tomb, and Underground Tomb of the 3 Brothers. Then we drove up to the Palmyra citadel, a medieval fortress, to watch the desert sunset.
Dinner was in traditional Bedoin tents with long tables that had squat sofas and pillowed stools on either side. There were a selection of common dishes to share along the table. With no serving utensils, we used our personal forks to dish up lettuce salad, beets, falafel, hummus, flat bread, and mashed eggplant with pomegranite. It was touristy enough that they provided us with personal silverware rather than eating in traditional Bedoin style with the fingers of our right hand.
Musicians arrived to play sitar music and other Middle Eastern instruments. The group leader invited us individually out to dance in the center aisle between the tables. Next they brought out two roasted lambs and tasty fried rice with peas for the main course.
After more dancing (and the whiny, buzzing music that seemed never ending!), we headed back to the hotel and a picture of the ruins by night.