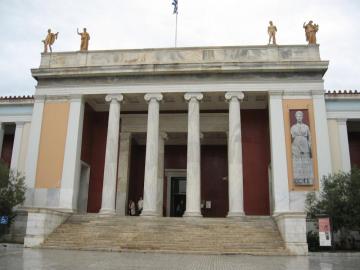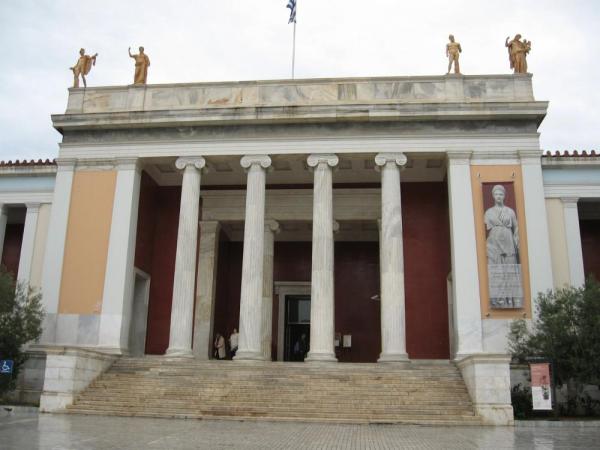 This morning, we were transferred to the airport by our tour coordinator. I was really impressed by their service throughout. At the airport, they had someone waiting for us to speed us through check in and security with no hassle. It was the easiest international check in that I have experienced in years thanks to their help.
Egypt Air was also great. For the two hour flight to Athens, they provided English newspapers, headsets for TV shows, and a wonderful lunch including grape leaves, cheese, bread, and more. Airlines in the US could take a huge customer service lesson from them!
When we arrived in Athens, we left our luggage at their airport locked luggage storage for a small fee. This allowed us to head straight to the metro to get to the Acropolis before closing.
When we arrived at the Acropolis, we were trying to figure out why there was so much security and press around. We were a bit dazed as we walked past a huge news crew. Just as we were about to cross the entrance gate, a group of runners came down the hill from the Acropolis carrying the Olympic torch to begin its journey to the next location.
At the Acropolis, we wandered on our own, enjoying the relaxed pace to take photos and enjoy the sunset over Athens. After our visit, we headed down to the new Acropolis museum. This was the best museum that we visited on our entire trip. They had many of the sculptures and friezes displayed from the Acropolis. The entire structure was built on stilts with a glass floor looking down on another set of ruins. Though the museum was all stainless steel and glass, it was designed according to many of the specifications of the Acropolis. It had stainless steel columns in the same configuration as the Acropolis and the upper level was oriented with friezes in the same placement as they would have been on the Acropolis. They also had two well done movies talking about the history of the Acropolis and the museum.
After our visit, we went to a lovely, though touristy, restaurant in the Plaka for dinner. A pianist played fun tunes as we savored our final taste of fresh Mediterranean cuisine- keftedes (meatballs), tzatziki, pita, and wonderful Greek salad.