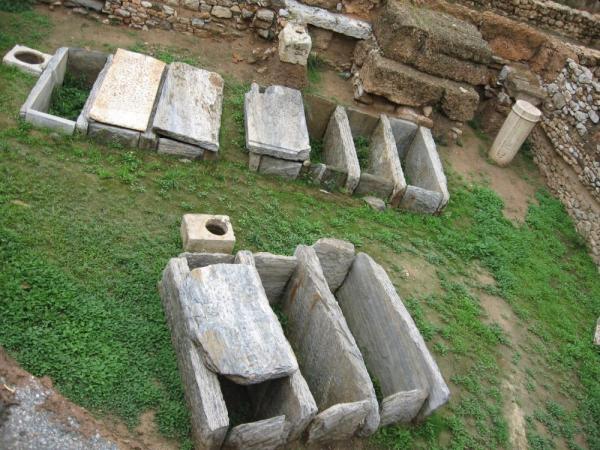 We woke early for breakfast on the 7th floor restaurant. Most tables had stunning views of the Acropolis, though we settled for a spot with limited views so that we wouldn't have to wait.
This morning, we headed out to the temple of Brauron, dedicated to Artemis as the protector of childbirth and Ifigenia, guardian of the underworld for mothers or babies that didn't make it through. The nearby museum displayed hundreds of items that had been offered as sacrifice at the temple including statues and vases. The most common sacrifice, the clothes of the mother in labor, had, of course, not survived. Most interesting were the statues of children. Before the 4th century BC, sculptors did not know how to represent the form of a child so they simply created mini adults (they look like giants and dwarfs in the same piece of art as the children are proportioned just the same). In the 4th century, sculptors began to learn how to display kids and we could see the process of improvement as both the faces and bodies became more childlike in later pieces.
Next we headed to Cape Sounion. The sky was cloudless and it was a picture perfect Greek seen. The temple of Poseidon, protector of sailors, perched on a cliff overlooking the sea. We had moussaka and Greek salad on site and spent some time admiring the views.
From there, we headed to Piraeus to board the Corinthian II. The staff is amazing onboard, all very welcoming and ready to help. We checked into our Penthouse suite, a recent upgrade, and started unpacking. The room is lovely with a private balcony and enough space to feel like a comfortable hotel room. Though I had originally been overwhelmed to be upgraded to the fancy Penthouse, I actually felt very comfortable and appreciative of the space we had.
I went downstairs for afternoon tea, followed by a lecture on the Partnenon as a Greek national symbol. Dinner, like all of the meals we have had so far, was fantastic. It's a shame that I can't take advantage of the complimentary wines as they are paired specifically to each night's options and region.