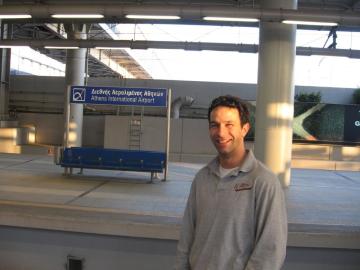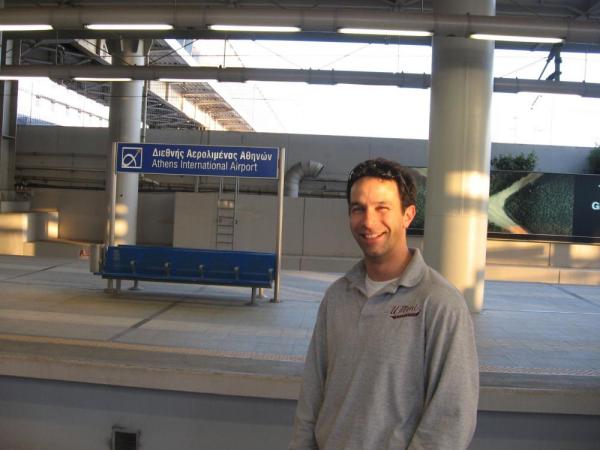 We were very jet lagged and didn't sleep much last night. We both woke up at 2:30am and stayed awake for ~ 4 hours reading before napping through the morning. Fortunately, the Centrotel had a generous check out policy. We left around noon and caught a taxi to the fancy King George Hotel in Syntagma Square. This 5 star hotel was typically ~9 times the price of the Centrotel, but it was included in the cruise package. Our room was nice, but smaller than the Centrotel and really didn't have any advantages except the very convenient location and lovely breakfast views.
We spent the afternoon exploring in the rain that Ryan has decided he brings with him wherever he travels. We walked to Monastiraki for a delicious lunch of Greek Salad, tzatziki, pita, and souvlaki. The recipes were similar to Greek restaurants in the US, but the quality was so much better because all of the ingredients were extremely fresh.
After lunch, we visited the impressive National Archaeological Museum. The collections are extensive and the statues, particularly of Zeus, Poseidon, and Aphrodite, are impressive. Unfortunately, I was overcome with jetlag and spent much of my time on the museum benches. I'm really glad we planned this extra day on our own so that I wouldn't be in this shape once the cruise started!
After a short nap back at the hotel, we met the Corinthian group at a welcome cocktail reception. The staff is exceptional and we definitely feel like we will be in great hands. The lecturers were very down to earth and nearly all of their planned lectures sound too good to miss.
Dinner was on our own so we walked to the nearly Everest (Greek version of Quiznos with grilled sandwiches to order) for a quick bite.