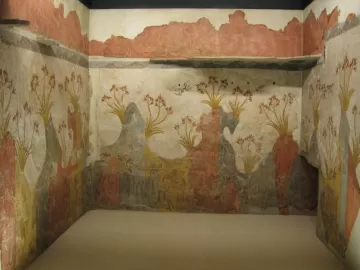 Today we took a large tender to shore at Fethiye. We met our fantastic local Turkish guides and boarded buses up to Xanthos, capital of the Lycian Empire. The Lycian people of the 4th century BC had a republic with representatives that were one of the models for the US Constitution. At Xanthos, we saw some Lycian tombs as well as a very well preserved Roman road (2nd century AD) and theater.
We then traveled to Letoon to see the temples of Leto, Apollo, and Artemis. The Leto Temple had been significantly rebuilt so it was the most substancial looking. The Apollo temple had a beautiful mosaic with bow/ arrow, sun symbol, and lyre.
After visiting the temples, we saw the nearby Greek theater and stone theater masks. We headed back to the ship for lunch and spent the afternoon watching "Clash of the Titans" while we sailed onwards.
Ryan was not feeling great so I headed to dinner without him. When I returned, Gabor (the matre'd) had insisted that he send food with me so Ricky (our butler) brought him a tray with spaghetti. We headed out on the observation deck for star gazing with John Frick, the articulate hotel manager. He gave a fascinating lesson combining Greek myths, physics, astronomy, and even Shakespeare sonnets as he pointed out various constellations.