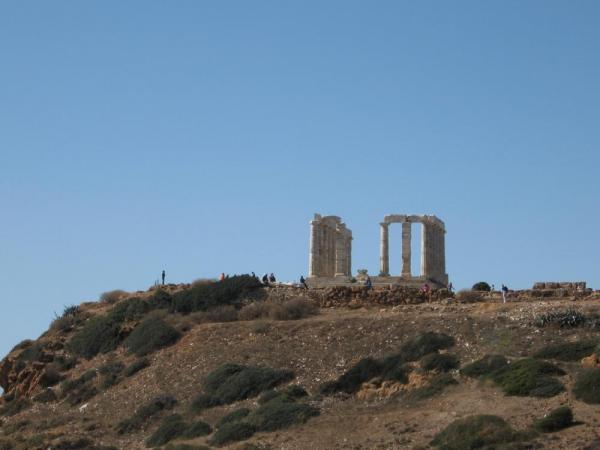 This morning we were greeted at the hotel by our Egypt operator including a tour coordinator, guide, and driver for the two of us. They drove us to the Meridien Pyramids to check into our room overlooking the pyramids. The room was lovely and well worth the cost.
After check in, we drove to the nearby Sphinx and Pyramids. Contrary to my impressions from books and movies, the pyramids are essentially located in the center of Cairo (Giza is one side of the Nile, Old Cairo is the other, but they are all part of one large 22 million person metropolis). We were literally in stop and go 6 lane traffic with commericial buildings all around and there were the pyramids on our left. The Sphinx was right across the street from Pizza Hut and Kentucky Fried Chicken.
Despite the metropolitan location, the pyramids did not disappoint. They are an architectural phenomenon for our time, let alone 4500 BC when they were first built. We were able to climb up the first 20 or so steps to get a sense of the amazing gradeur of the Great Pyramid. The entire pyramid had once been covered by a white limestone sheath so that it at one time looked like a smooth, glistening, and geometrical perfect pyramid.
Travelers are allowed to enter only a short distance within the pyramid. Unfortunately, I was still suffering from terrible TD so I was not up for very much. We headed instead to the panoramic viewpoint where you see most photos of the 3 pyramids, complete with the swath of the only sand in the area.
Next, we visited the Sphinx, standing in a crowded line waiting to get close enough for a good photo. While we waited, our guide detailed the theories of the Sphinx creation and the reasons for the statue.
We finished our tour shortly after noon and headed back to the hotel for some much needed R and R to recover from our stomach troubles. We ordered room service (soup and bread) and spent much of the afternoon napping so that we would be ready for the evening Sound and Light Show.
The Sound and Light Show was truly incredible. They had ~ 200 chairs set outside the Sphinx. Using lasers and dramatic colored spotlights, the Sphinx narrated the history of the Pyramids and Ancient Egypt. Though the historical accuracy was questionable, the show was beautiful and the temperatures by evening are comfortable.