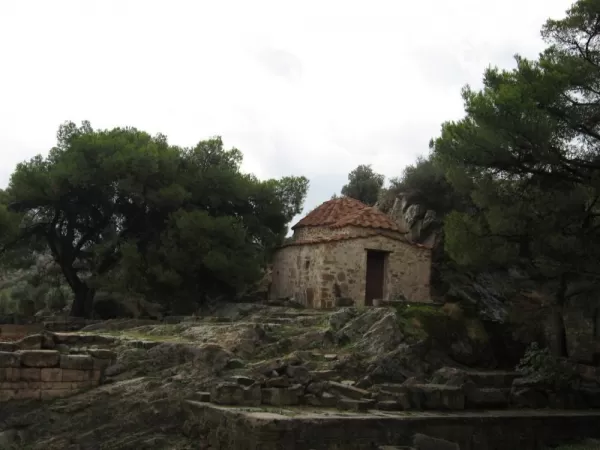 We had a large buffet breakfast with lots of Middle Eastern fare (salads, cheeses, olives, hummus) as well as American favorites.
We then visited the Great Collonade, agor, and palace baths of the Palmyra ruins. Ryan and I couldn't wait to ride the camels and hastily paid the "going rate" (likely more than we should have) for a quick five minute loop. Still, it was great fun and the camel driver was very nice. His friend wrapped us in headscarves for a picture afterwards.
The stream of souvenir sellers spoke decent English and pursued us through the site offering postcards, necklaces, and small figurines. Ryan bought a silver camel and a necklace after minimal negotiations. In general, the sales people seemed genuinely friendly and a couple of them chatted with us without even trying to make a sale. Of course, there were also several pushy ones insisting that we needed their scarves and pushing postcards at us.
I felt comfortable with the ones we brought from who seemed appreciative. However, I refused to buy from the young children or the adults who seemed to be with these kids. There was one particularly sad boy who sat looking dejected and refused to get up and sell when prompted by older boys. One of the older boys kicked him and shoved him in the side of the head. The scuffle was over as soon as it began, but I didn't know what to do aside from staying away from this group of sellers.
After the ruins, we drove halfway back to the ship and stopped at crusader castle of Krak des Chevaliers. We had lunch at a nearby restaurant including chicken, French fries, and most of the same appetizers as the night before. The we toured the expansive castle, walking along the castle walls and admiring the panoramic views of Homs.
We returned to the ship for a restful evening onboard. Returning to our cabin and the fantastic crew as like coming home. Unfortunately, Ryan got TD and didn't sleep well.