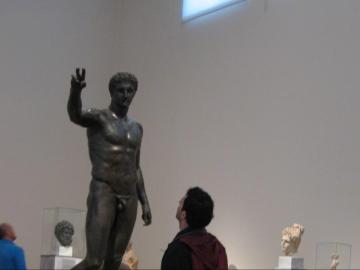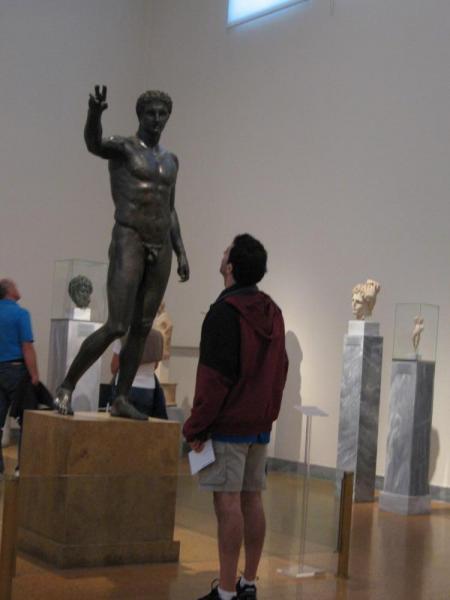 Today we arrived early to Rhodes, ancient site of the Colloseus of Rhodes, one of the Ancient Wonders of the World. There are no traces of the bronze Colloseus that was supposedly destroyed by an earthquake shortly after it was built and may have been melted down for use in other projects. We took a walk around Old Town Rhodes, the largest intact medieval town in Europe. The town is surrounded by 15th century walls constructed by the Crusaders in their efforts to insure safe passage for Christian pilgrims. The Knights of St. John of Jerusalem built several fortresses around the old town as well as two hospitals that also served as free hostels for poor travelers along their journey.
This order of Knights was composed of 7 nationalities who each protected a portion of the town and identified their segment with the Coat of Arms for their region and/or that of their Grand Master. After walking the town and visiting the archaeological museum housed in one of the Middle Age hospitals, we took a bus to Lindos on the other side of the island.
Here we had a lunch of mezedes (literally "tastes") of various Greek specialties including a chick pea sauce, squid stuffed with feta and red peppers, marinated squash, Greek salad, hearty Greek bread, and a dish similar to moussaka with eggplant, cheese, and marinara sauce.
After lunch, we rode donkeys to the acropolis above Lindos for stunning views across the island and the harbor. At the bottom of the cliffs beneath the acropolis was a small, sheltered harbor where St. Paul landed in approx 50 A.D.
We walked back into Lindos and caught the bus back to Rhodes old town for some much appreciated free time to gather a few souvenirs and visit the internet cafe before heading back to the ship.