Tranquilo Bay, the best Bocas del Toro hotel, is your home base to explore the islands and highlands of Western Panama. Tranquilo Bay provides sustainable adventures in Nature, providing exceptional service while honoring the beautiful environment of Bocas del Toro. Unpack, settle in and experience this unique tropical location. Tranquilo Bay provides guests with six deluxe air-conditioned cabanas, beautiful views, eco-adventure activities, personal attention and fine cuisine.

Accommodations at Tranquilo Bay
The interior of each of the six cabanas are tastefully and comfortably appointed with air-conditioning, local hardwoods, tile floors, fine linens and a calming color palette. Each bedroom features a bed or beds, handcrafted for Tranquilo Bay, made from local hardwoods with an orthopedic mattress. Reading lamps and various books are also found within each bedroom. A small seating area adjacent to one of the windows and a closet round out the remainder of the bedroom.

Private baths include a spacious granite countertop providing plenty of room for belongings. Each bathroom includes a large walk-in shower with a full size water heater. Coffee makers, hair dryers and snack baskets are also located within the bathroom.

A covered porch with a hammock, Adirondack chairs and a ceiling fan await to help guests escape the "every day" that you left behind when you enter the grounds at Tranquilo Bay.

All cabanas boast luscious tropical jungle views.

Main Lodge
The Main Lodge is where meals and indoor recreational activities take place. The ocean facing and elevation over the jungle canopy are incredible. The upstairs balcony is the perfect place to watch the sun rise with your morning coffee and the moon rise in the evening with a cold beverage. The monkeys and birds also travel through on their late afternoon feeding migration.

The interior of the main lodge building includes the dining room, the bar and an entertainment room which includes a television and a large book and video library. The second floor of the main lodge building a large porch which wraps around two sides of the building giving you a bird's eye view into the jungle and of the Caribbean beyond.

Dining at Tranquilo Bay
Meals at Tranquilo Bay are included for each guest. Breakfast offerings may include a continental buffet. Lunch will be packed for those guests whose activities keep them away from the resort, and for those remaining on site a variety of choices are available. Appetizers are provided during the cocktail hour preceding dinner. Dinners vary based upon the local ingredients available.

Breakfast will include fruit juices, Panamanian coffee and rolls. You may request eggs made to order each morning. One special breakfast entree each day will be provided each day.

A delicious lunch will be packed for those partaking in off site activities for the day. For those remaining on site, chose from a selection of salads, sandwiches and soups which highlight local ingredients - avocados and hearts of palm for example.

Prior to dinner each night, enjoy a cocktail hour to watch the sunset and enjoy delicious nibbles.

The dinner menu is posted each day at breakfast. If you would prefer another entree you may select from a few offerings and notify the restaurant. Entrees vary nightly - one night seafood and the next night it may be South American beef. Each nightend with a little something sweet to close the day.

Location
Tranquilo Bay is built inside the rainforest overlooking the Caribbean Sea and the beautiful Panamanian Jungle. The central location within the archipelago of Bocas del Toro permits guests to explore some of the most biologically diverse areas of Panama and Central America. Bocas del Toro, Panama includes an archipelago of some 68 tropical islands which are excellent for beach combing, birding and exploring. Around the many reefs and lagoons, you may fish, snorkel and surf. There are also beautiful spots perfect for laying back and letting the cool ocean breeze wash over you.

The province of Bocas del Toro hosts two national parks, one of which is a world heritage site and two protected cloud forests. The trans-boundary protected area consists of 1.4 million contiguous acres, extending from the continental divide to the Caribbean Sea, covering all five altitudinal zones known to the tropics. One park, Bastimentos National Marine Park, covers a large portion of the archipelago and is home to a variety of ecosystems which thrive at or around sea level. The other park, Palo Seco Nature Reserve, is on the mainland and reaches through the cloud forests up to and beyond the continental divide.
Rooms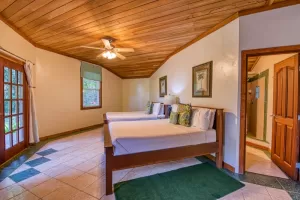 Deluxe Cabana
Cabana One faces the ocean with views of the jungle. It has two double beds, an interior seating area, a large bathroom (with a spacious granite countertop and a walk-in shower), and a seating area on the large porch. As one of the original six units, it has around 400 square feet.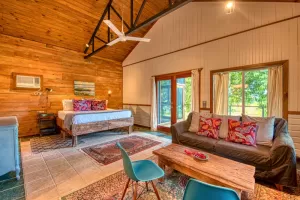 King Suite Cabana
Cabana Nine is our treehouse suite. It is on the second story of our newest building. It features a repurposed Nispero king-size bed, a large interior seating area, an expansive bathroom that includes a bathtub, and a large porch. This is our largest unit at about 600 square feet.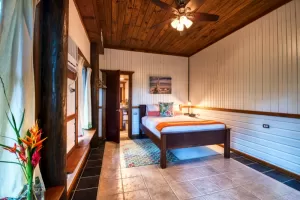 Standard Cabana
Features a queen-size bed, an interior seating area, an ample bathroom, and a seating area on the porch. This is one of our smaller units at about 300 square feet.
Itineraries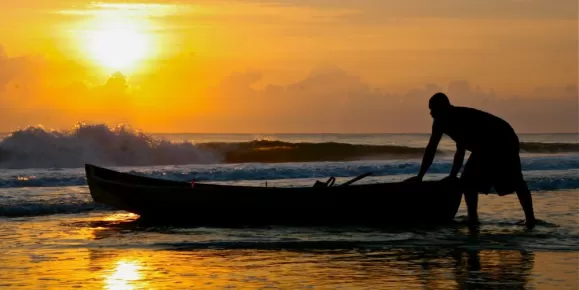 EXPLORE
Caribbean Adventure - Bocas Town
8 Day Itinerary
Raft down the Pacuare River
Hike deep into the jungle
Snorkel the marine-rich coral reef
Tour Panama's vibrant capital city
Activities:

Horseback Riding, Land, Rainforest Exploration, Snorkeling, Urban Exploration, Whitewater Rafting, Wilderness Lodge, Wildlife Viewing, Zip Line

Activity Level:

Easy Active
Tour Details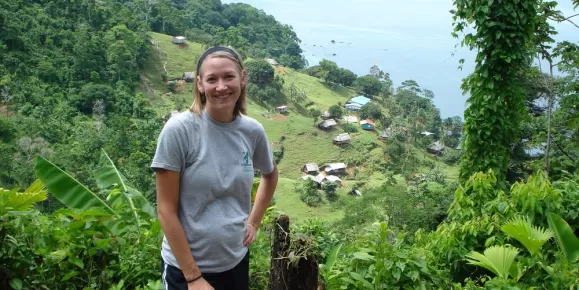 EXPLORE
Discover Panama - Bocas Town
8 Day Itinerary
Hike through tropical forest
Take a coffee tour in Boquete
Hike and relax on white sand beach
Snorkel, kayak or hike
Activities:

Fishing, Land, Snorkeling, Whitewater Rafting, Wildlife Viewing

Activity Level:

Relaxed
Tour Details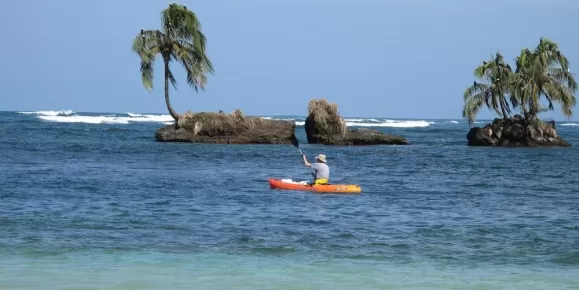 EXPLORE
Caribbean Adventure
9 Day Itinerary
Raft down the Pacuare River
Hike into the jungle for a swim
Marvel at the Panama Canal
Snorkel, kayak, hike, or relax
Activities:

Hiking, Land, Rainforest Exploration, Snorkeling, Whitewater Rafting, Wildlife Viewing, Zip Line

Activity Level:

Easy Active
Tour Details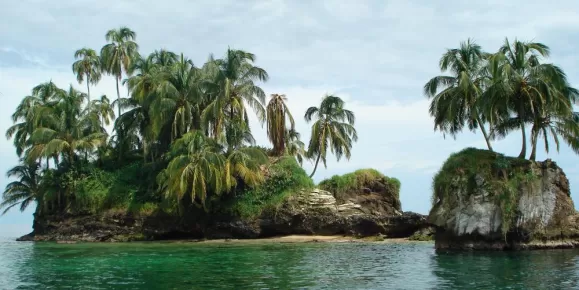 EXPLORE
Discover Panama
8 Day Itinerary
Trek the lowland tropical forest
Bike, hike, zipline, raft or relax
See wildlife in natural habitats
Explore Tranquilo Bay
Activities:

Biking, Hiking, Land Exploration, Rainforest Exploration, Snorkeling, Wildlife Viewing, Ziplining

Activity Level:

Easy Active
Tour Details
EXPLORE
Tranquilo Bay Escape
8 Day Itinerary
Navigate through Bocas archipelago
Search for an array of wildlife
Kayak around Boca del Toro
Hike through the local jungle
Activities:

Kayaking, Land, Snorkeling, Wildlife Viewing

Activity Level:

Relaxed
Tour Details
Tranquilo Bay Activities

Tranquilo Bay is fortunate to have an incredible number of excursions for the outdoor enthusiast. Tailor made excursions can be arranged depending on the guests desire to experience certain activities.

Land Excursions:
Beaches
Birding
Jungle Hiking
Beach Hiking
Water Excursions:
Snorkeling
Kayaking
Surfing
Snorkeling
Tranquilo Bay is fortunate enough to be surrounded by the extremely diverse 28,600 marine acres of Bastimentos National Marine Park.

Panama's first marine park is one of the most spectacular in all of Central America. In a protected corridor no wider than seven miles, the oceanic diversity, sub-sea topography, marine ecosystems, life zones and species are extreme. Our underwater excursions are designed to explore as many different realms as possible while focusing on habitat and species diversity.

Much of the marine park has never been explored under the surface, and many of the known dive sites are as yet unnamed. Within the marine park, sea fan gardens, vibrant coral reefs, and over 200 species of tropical fish live amongst a dramatic sub-sea terrain, which seems to transform every few hundred yards. Oceanic formations in the area include walls, freshwater caves, tunnels, pinnacles, coral spires and towers, Spur and groove, ocean impact reef, sandy ledges and protected patch reef.

If snorkeling is the primary objective of your trip, note that the Caribbean Sea is calmer and there is less rain from February through June and September through November, September and October being the most consistent of all months. Please note there is an additional cost for diving.

The visibility, while most times is good, does not compare with that of other well known dive destinations such as Cayman Islands or Cozumel. That being said, most of the interesting formations here in Bocas del Toro are in shallower water. In many areas the maximum depth is 40 feet and the light penetration is excellent.

Beaches
If serious beach time is what you desire, then Bocas del Toro has one just right for you. Tranquilo Bay is centrally located in the heart of the archipelago, which makes it possible to visit a different beach everyday during your stay. The archipelago of Bocas del Toro, surrounded by the Talamanca range, is an expanse of turquoise Caribbean waters dotted with lushly forested islands, mangrove Cayes, and flats of coral and turtle grass. The windward islands are blessed with pristine coconut-lined white sand beaches, several of which are protected by Bastimentos National Marine Park.

Four species of sea turtles nest on these shores and inhabit the reefs laden with tropical fish. Sand dollars, seashells and driftwood are easily admired on these uninhabited beaches. It is not uncommon to find yourself exploring the whole day without ever encountering other footsteps.

Sea Kayaking
The archipelago of Bocas del Toro earned the name "Galapagos of the Caribbean" by being one of the most biologically diverse places on earth.

Our sea kayak excursions are designed to cover an array of ecosystems, terrain, marine and terrestrial wildlife. Enjoy the tranquility and thrill of sea kayaking as we paddle along dramatic stretches of the archipelago, allowing us to explore secluded white sand beaches, coral flats, small offshore islands and rock ledge coastline, navigate mangrove forests, paddle up spring fed rivers, shoot the mountain rapids or snorkel pristine reefs and rock formations. Many of our daily explorations cover more than three separate ecosystems.

All excursions depart directly from our comfortable facility where our staff will handle the preparation, maintenance and portage of the equipment. Snorkel gear is provided on all excursions to fully explore the underwater realm of brilliant tropical fishes living amongst vibrant coral reefs. All you have to do is paddle and absorb the breath-taking scenery. No experience is required for many of the excursions. Whether you're searching for the serenity of calm backwaters, need to feel the surge of jagged frontal coastline, or want to try a little whitewater, we will schedule your group's excursions to accommodate various experience levels.

Jungle Hiking
Walking through the jungle is a surreal and vivid experience. As you enter beneath the rainforest canopy, cool moist air and profound shade envelop all within.

Surprisingly dark inside, a slight feeling of insignificance begins to sharpen your awareness. Sight, smell, hearing and touch seem hypersensitive as you simultaneously gather and rapidly process information from your bizarre new surroundings. The enormous height and size of the vine-entangled trees leave many visitors with a feeling of awe. Tranquilo Bay is surrounded by national parks and protected areas creating 1.4 million contiguous acres, the single largest remaining tract of virgin forest unit in Central America (see the National Parks and Wildlife Refuge Section). Extending from the continental divide to the Caribbean Sea, this pristine forest covers all five altitudinal zones known to the tropics. Bocas del Toro is an explorer's dreamland and still one of the wildest, most biologically diverse places on Earth.

We explore these areas from the comfort of our facility and often cross three or more ecosystems in a single excursion. Our expeditions into the parks are designed to cover a diverse range of ecosystems, flora, fauna and terrain; each hike will be tailored to meet your group's areas of interest, experience, and physical abilities. A knowledgeable guide, equipped with a sharp machete and extensive experience in the area, will accompany your group on all hikes into the rainforest. Forest explorations generally depart after breakfast; lunch is usually picnic style and served on the trail.

Surfing
You can bring the whole family. Tranquilo Bay offers excellent food, accommodations, amenities, and a multitude of activities to entertain both the surfers and non-surfers in your group. We have warm Caribbean water year round, so wet suits are not necessary. Our average tidal fluctuation is less than 20-inches, so we never have to plan a session around the tide. Also, we are a heck of a lot closer than Indo.

The best and most consistent swells hit Bocas del Toro at the peak of winter. The season starts late November and begins to fall off in February. The peak of summer can also produce a mini season during the months of July and August. While there can be some epoch days during these months, the summer season does not compare with the winter in terms of duration or consistency.

During the biggest swells most breaks hold more than 12 feet before closing out, and Silverbacks on Isla Bastimentos will hold to over 20 feet. Many islands in the archipelago have inside reefs and shoals that catch swell wrapping around the side of the island, creating smaller waves and less current -- perfect for the beginner and still a fun ride for experienced riders.

We know you came here to surf, not paddle. We explore these waves from the comfort of our facility, traveling to all locations via boat. Our fast 26-foot boats will drop you right by the take-off point, and then anchor in the channel to serve as a rest stop. Cold beverages, towels and shade are never more than a short paddle away. When you're done resting, there will be no reef dance in the impact zone to get back to the take-off spot.

Fishing Excursions
Off-shore Species: Seasonal offshore runs include Yellowfin, Blackfin, and Bigeye Tuna, Wahoo, Kingfish and big Yellowtail Snapper. Resident bottom fish in these waters consist of various grouper species, and snapper including Cuberas, Grays, Dogs, Blacks and Muttons. Whale Sharks, dolphins, and sea turtles are sometimes spotted in these pristine waters.

In-shore Species: During spring, Tarpon, Snook and jacks can be found schooling in various bays, lagoons, rivers and small flats within the archipelago. These same fish, along with larger migrants, congregate near river mouths in the spring and fall. Small to midsized snapper, jacks, and barracuda can be found within the archipelago near reefs, grass flats, and mangrove estuaries throughout the year. When all the stars line up, and the conditions are just right, chase Bonefish on the windward flats.

There is an additional cost for all fishing excursions.
Inquire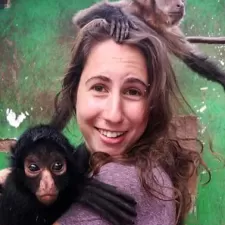 We Love to Talk Travel
Call
1.800.344.6118
or
Chat Now
Beyond expectations! Then again we weren't sure what to expect. Lovely stay at the lodge, met other like-minded travelers (many had their trips planned by Adventure Life) and the owner was a gracious hostess. It felt like you were one happy family, visiting with a favorite aunt.
Nancy Sin