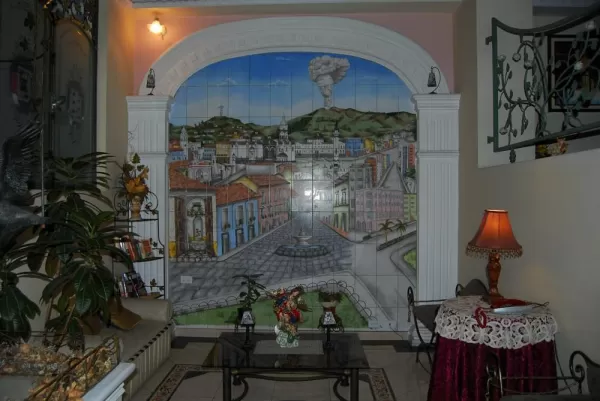 Today began with a small breakfast of fruit and toast in the hotel's cafe. They had arranged for a bus to pick me up a couple of blocks away to go on my sojourn. From the moment I walked outside into the fresh air until I returned, I was in awe of the city, the countryside and the people.
First I went to Calderon, a town where women artisans make dough (masapan) figurines by hand and then paint them. It is a small town, but the work is exquisite. As we passed through the tiny streets, carcasses of pigs hung announcing the restaurants intentions.
Next, we went through the Andes to Guayllabamba Valley and the exquisite Emerald River Valley. There were many volcanoes and heavy clouds all day. It is a semi-arid area with limestone interspersed with acacia and eucalyptus trees. This was a beautiful sight with many twisty climbs and turns. We stopped at a shop that makes Panama hats, which were used to ward off the sun during the building of the Panama Canal. They are made in Ecuador, but everyone assumes they are made in Panama. Who knew?
Finally we arrived at Otavalo Market, where you can buy anything from linens, jewelry and brightly woven cloth to local delicacies. I walked through rows and rows of colorful textiles, elaborately woven ponchos, dresses, embroidered table cloths, and handmade jewelry. Street people were hawking their wares from fresh red strawberries, coco frio with straws to un-recognizable mystery meat. I breathed in the sights, sounds and smells of this fabulous outdoor bazaar. It was spectacular to see all this native merchandise in one place! And shop I did. Perhaps I need another suitcase to go home!
Our last stop of the day was Cotachachi, a town that thrives on the leather trade. We had lunch at a local restaurant and I sampled "locro", a soup made with potatoes, white cheese and slices of avocado on top. Que rico! After lunch and great conversation with some of the international people on the bus, we decided to go shopping, of course. The shop keepers were patient and answered our questions about their products, town and the leather making process. Many people tan and make the leather goods, like shoes and belts right in the shops for tourists to purchase. Some of them were real works of art.
The day was a wonderful look into the Ecuadorian culture and the artisans who make their wares as well as stunning vistas of the Andes and surrounding volcanoes, valleys and rivers. Arriving back at the hotel, I felt that I had found new friends and acquired a new found respect for Ecuador.