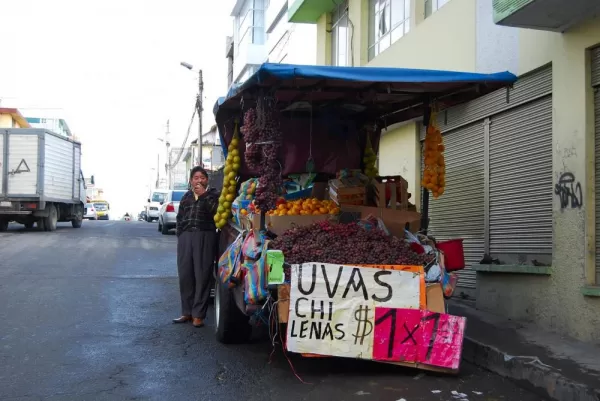 Sometime during the night the seas flattened out and it was smooth sailing toward San Cristobal. We arrived at Punta Pitt and the sunrise was exceptional. The island was silhouetted by the dawn and numerous birds floated effortlessly overhead. I took an early morning panga ride around the rocks to see sea lions cavorting in the water. Their graceful bodies surfed the waves along the shore. The red footed boobies nested in the cliffs along with other magnificent sea birds. This was only a taste of what was to come.
After breakfast, we made a wet landing on Punta Pitt. From there, it was an easy stroll through low trees and shrubs to Frigatebird Hill. Though we saw many Frigatebirds, the real charm was seeing Red Footed, Blue Footed and Masked Boobies all over the island in low bushes. As we walked, we viewed them courting, (the now famous Blue Footed Boobie Stomp a personal favorite), nesting and taking care of their families in the brush. Their colors are so vivid as they have adapted to the unique environment of few, if any, predators and do not need to hide.
This island and the dramatic cliffs are composed of an ancient tuff cone (compacted ash), eroded by the wind. Abundant red and green low plants dotted the landscape. The brilliant contrast between the earth and sea was as phenomenal as the view of the beaches and the harbor below.
As each day has been a surprise, I couldn't wait to see what was in store for me now. I certainly wasn't disappointed either! After returning to the Beagle, we motored toward Kicker Rock, navigating around Leon Dormido, or Sleeping Lion. This huge formation gets its name from the shape of the eroded 500' vertical cliffs and wind torn rocks. We went snorkeling with sea lions again, marine iguanas, saw sea stars, sponges and different hues coral. We also saw big eyed hog fish and schools of silvery calemas. As I was free diving, I could only stare at the vibrant colors underwater and wanted to remain their as long as my breath held out.
After lunch, Captain Washington took us to Islas Lobos, where we hoped to see the frigate birds inflate their red sacs to attract a mate. We were not disappointed! He pointed out the different types of Frigatebirds and told us about their peculiarities. I saw many nestled in the trees along the shore.
As we made our way back to the shore and the panga, the back side of the island was strewn with smooth, volcanic boulders from eons ago. This rich, tranquil landscape with its primitive beauty made me realize how interconnected everything is and I felt humbled in its presence.