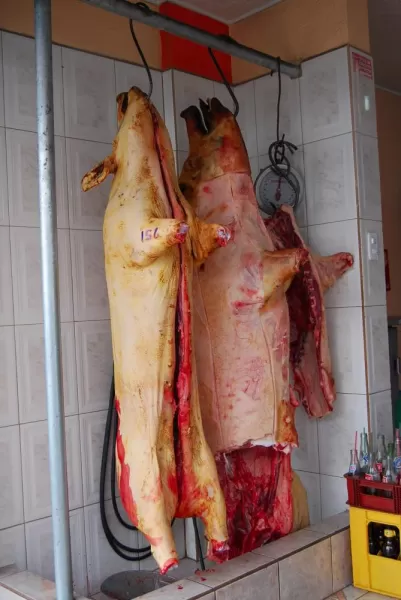 I was so excited I couldn't sleep! I awoke at dawn and when I arrived at the airport it was all fairly organized. I got my seat assignment and boarded the Tame plane that would wing its way about 600 miles (1,000 kilometers) to the Islands of the Galapagos. I arrived at Baltra and as I walked across the tarmac I nearly shouted with excitement. Daniel Sanchez, our guide for the next week, was waiting with a large sign to welcome us. As we took the short bus ride, my first impression of Baltra was one of wonder, not desolation, with flora in all shades of brown and green interspersed with gray. Then we took a short ferry ride across the Itabaca Channel with our luggage precariously balanced on the flat top. Next, we took a smaller bus to the top of Twin Craters passing through multiple vegetation zones finally placing us at the dock for my first glimpse of the HMS Beagle. She is a steel hulled, 105' motor schooner with room for 12 guests,(though we were only 8) 6 crew members and the guide. Luis, our panga driver smiled and I felt very welcome as we were helped from the panga to the ship. After a short briefing and boat drill, we checked out our accommodations. They were mighty spacious, two bunks, the bathroom (head in ship speak) and even a closet. I knew I would be in heaven for the next eight days.
Soon we were on our way to the Darwin Research Station and National Park Headquarters where Daniel explained about the ongoing work they do including rearing pens for the 17 species of tortoise, eradication, breeding and relocation programs, and attempts to keep the islands safe as well as descriptions of the local flora and fauna. I saw my first blue footed boobie! In addition, I spotted Sally Lightfoot crabs and plenty of gray marine iguanas. We were up close and personal with the tortoises, esp. Lonesome George, sadly, the last of his species. He has been paired with a distance cousin, actually two, and they have produced eggs! We are keeping our fingers crossed. The hard work that they do at the Darwin Station is incredible.
Daniel, our guide, is very well versed in all things Galapagos. He is personable, knowledgeable and enthusiastic about his chosen career. He has a degree in Marine Biology and is always willing to talk. If all the guides are as passionate as Daniel, the Galapagos is in good hands!
We walked around Puerta Ayora, a town supporting about 15,000 people on the island of Santa Cruz. There were many stores as well as restaurants, and at the docks, the locals sell fish. We were told to get whatever we need as there wouldn't be any other opportunities to stock up. I bought sunscreen and a $6 sombrero to keep the sun off my face. What a bargain!
I watched the locals playing games at the public dock. Finally, Lucho, as he liked to be called, picked us up in our chariot and we settled on to the Beagle for the 5 hour motor sail to the next island, Floreana. We had an elegantly prepared dinner and got acquainted with the each other.