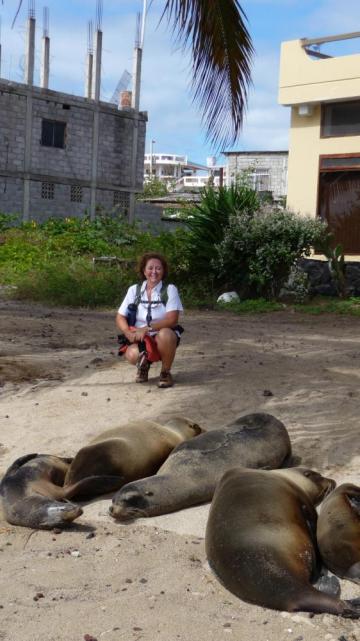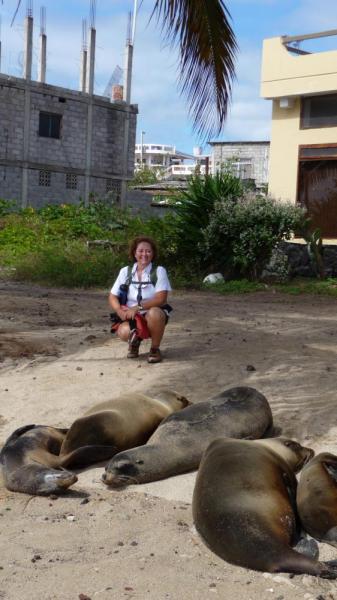 Well today was our final day in Ecuador. We decided not to do too much as we have to leave for the airport at 1:30pm, three hours before our flight.
We spent the time packing and repacking and repacking…I feel like the poor souls at the beginning of our trip, weighing their luggage at the deserted COPA Airlines counter.
We packed in all our souvenirs and gifts for everyone after deciding we would each wear 10 sets of clothing on the plane to not have overweight luggage…
We could easily accommodate that after our "revenge" episodes. In fact I was down to svelte 350lbs…
We then walked around, discovering the appliance store, that sold motorcycles and large stereos and stumbled upon the Crepe and Waffle, a restaurant I had read about on the internet and wanted to try. But as it was Sunday, it was of course closed. So we wandered some more and came upon a nice little Gelato shop called Monte Bianco. Good flavors and a lot of product for the price…Let that be a lesson!!
We made our way back to the hotel and were picked up by Daniel wearing his colors supporting the local Soccer/Futbol team, and Carlos. After a short familiar drive, we got to the airport and had to wait in line for over an hour to have our luggage checked in.
While in line we watched others pay $7 to have their luggage wrapped in plastic and I commented what do they do for security checks, but supposed they just used x-ray.
Then we waddled with our carry on's and 10 layers of clothes over to the Departure Tax booth...you see they even charge you to leave the country...about $40.00.
We then proceeded past all the duty free shops and into the waiting area. We had been sitting there a while when I heard my name called, but missed why. So I asked the woman at the reception desk and she said no it wasn't my name. So then my name was called again 10 minutes later and I was asked to report to the same reception desk I had checked with before. This time they said yes it was me and along with 4 other gentlemen we were escorted down to the luggage area (out of the building) to have our luggage hand searched. I determined later that this is a sexist country, as they only required men to come and have luggage checked. As I got down there I found it wasn't even my luggage, it was Tami's!! As I tried to remember the combination on her locks, I thought "What kind of stuff did she pack? Was it the 22 rolls of toilet paper?" So I opened it, they sorted through it and of course found nothing. So I had to put it back together and make sure it got on the plane. As I am doing this, I notice a man dressed like John Travolta in Saturday Night Fever. I recognized him from the a fore mentioned "Wrapping Station". Sure enough his $7 wrap had to be cut off before they searched his luggage. So I didn't feel so bad then.
We boarded the plane and were fed. And it was a quiet flight.
We then changed planes in Panama, were fed again – TWICE, and arrived in LA about midnight. It was at least 40 minutes for our luggage to come out as we landed in one terminal, had to have the Guards from the Wizard of OZ march us out to a bus and be transported over to the International terminal, to be processed by customs and then just breeze past customs check.
Resembling a Turkish caravan, we then dragged our luggage and carry on's, outside to try and find a bus to transport from the International Terminal to our fly home terminal. They have these blue marked areas to wait for that bus, and we only saw two. After ½ hr we saw hundreds of buses going to the parking lots, but no terminal bus. So we decided to walk, I thought we would be stopped by a policeman and asked if we had a parade permit. We made it in about 15 minutes and then sat for 4 hours waiting for the check-in desk to open.
We had an uneventful flight back to Phoenix, unfortunately no meal.. and arrived home about 10:00am…home sweet home…
We had a fantastic time, along with some good friends, the unplanned speed bumps and curves are what made the trip such an adventure.. I would highly recommend Adventure Life as a travel company as their guides were very knowledgeable and friendly. I also would recommend the Galapagos hiking trip versus a boat trip. You really get to know the land (as my rear end can attest from my slides). To all our companions, hope to see you again..keep in touch…What made the trip was the non-scheduled things, like the flat tires and the "closed' restaurant, those are the things you remember.
Hope you got something out of this little blurb .. enjoy the pics…