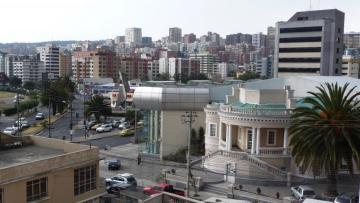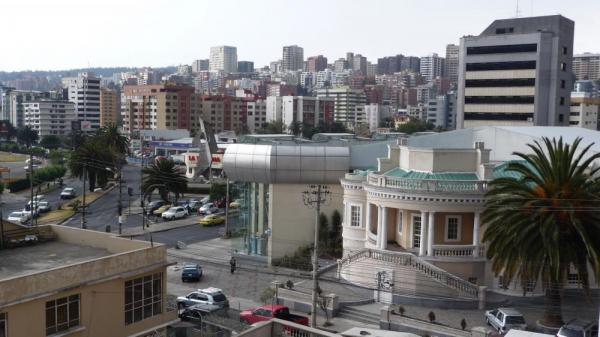 Day 2 in Quito, we woke early, had breakfast of scrambled eggs, burnt toast (Tami made her own), and bottled water…Oh did I forget to mention that nowhere on this trip could you drink any water from the taps, or brush your teeth with that water, all had to be bottled.
Today we had signed up for a tour of Quito and the "Middle of the Earth".
Daniel came early and along with our faithful driver Carlos, we first went to beautiful downtown. We visited the Basilica, a huge church located in Old Town Quito. Great views of Quito's compacted housing from the top of the Basilica...and we climbed about 200,000 stairs to get there. We also saw the main square "Plaza de Indepencia", famous for the monument to Marshall Sucre, second only to Simon Bolivar in fighting for South American Independence. We had to take some detours because the teachers were protesting, a recurring theme on the trip. They were protesting the Government's trying to have them tested periodically before allowing them to teach. We visited the "Virgin of Quito" statue, overlooking Quito. This was made entirely of aluminum plates, in the valley, disassembled and carried up to the top of this hill and reassembled. All the plates are numbered in order to correctly put her together again.
We next went to "Middle Earth", (not the J.R.R. Tolkien version), but Mitad del Mundo the actual Latitude of '00.00.00'. The place was called "Inti Nan Museum", lies on the equator, and at this place we saw demonstrations of strange phenomena, including the clockwise, counterclockwise and lack of both in draining water. Also real SHRUNKEN HEADS, they even had How To Guides, so watch out…Then we fed ourselves at Mama Clorinda's, GREAT Tamales wrapped in plantain husks…and waddled back to the hotel.