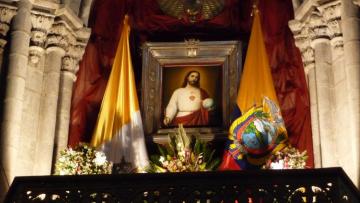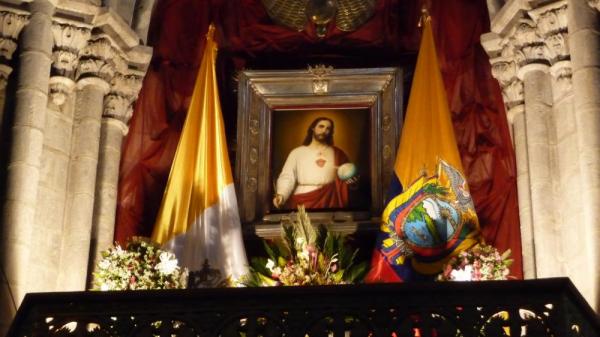 This day Tami and I got up early, walked around in the mist, taking pictures of the Sea Lions, Sally Lightfoot Crabs, and Yellow Warblers. Then back to the hotel and had of course BREAKFAST. We then all boarded a small boat for the first of our several "3 hour tours"…We rode out to Isla Lobo to snorkel with the Sea Lions, Sea Turtles, Blue footed Boobies and see some large black Marine Iguanas. Most of the "frigid" snorklers that had rented wetsuits didn't wear them as the water was warmer and very clear. Felipe was able to get a young sea lion to "fetch" and play with a Sand Dollar.
We then continued on the boat to a place called "Leon Dormido" (Sleeping Lion), or more commonly called "Kicker Rock". We saw Blue Footed Boobies and actually swam with a couple of Galapagos Sharks – I thought with all the weight we had gained we looked like giant Blowfish, so that's what probably kept the Sharks away.
We then returned to the hotel and of course, had lunch! Now I should explain this wasn't your normal American sandwich lunch. This is typically their largest meal of the day. So we would get soup, salad, fruit and entrée (usually fish) and it was all delicious. Specially prepared by the hotel chef.
That afternoon they used dollies to wheel us to the base of EL Junco, the site of an extinct volcano which holds at its cusp, a large fresh water lake. The approach to this is a very vertical trail which was muddy and slippery (recurring theme) and set of wooden steps leading to a mist and cloud shrouded lake. But a short wait, and the wind cleared it up.
We were able to watch Frigate Birds dipping for a drink into the fresh water, and to wash the salt water from the ocean off their wings.
We then went to one of the Tortoise breeding centers to observe. We saw a small tortoise "Genesis" which was aptly named as it was the only one to survive the first breeding attempt.
When we were returning on the rickety bus, flying down the mountain in the fog and then darkness, I was sure we would have hit some other vehicle, but we didn't even see one.
Then as we neared the town, BAM BAM…two flat tires...So Felipe stopped a couple of vehicles and had some taxis (seem to all be 4 door pickups) take us back to town. More adventure…then we fed ourselves dinner. And I must describe the "Macho Fish" dish I had. It was a large serving of Sea Bass, covered with Shrimp and a large lobster tail…burp..excuse me.
Returning to the hotel we were offered a new room without ants and a great balcony. Excellent!