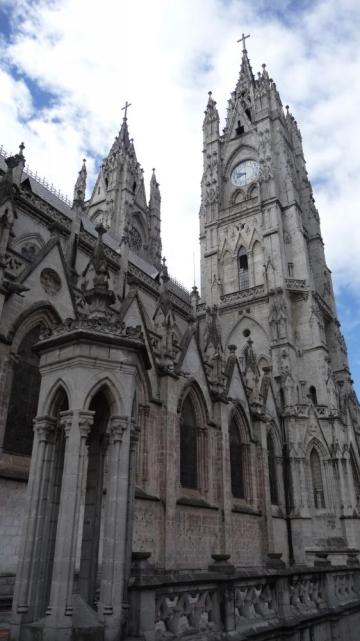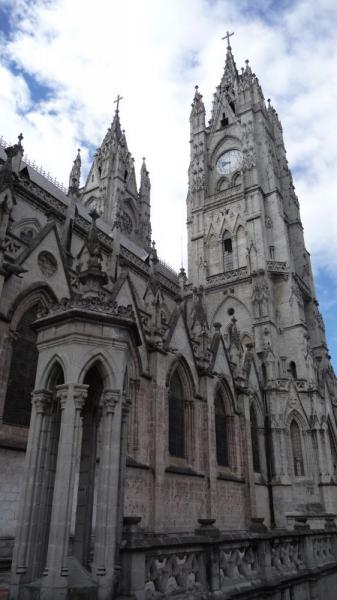 Today we were up early, packing to move to the next island - Santa Cruz, but of course, had to have breakfast...As we arrived at the dock for departure, there was a Dr. waiting to check us all, literally. They were very concerned about the swine flu, so everybody got the "spray". Then the adventure began with a bang as Tami started down the ramp...Swoosh! her feet went out from under her and BAM, she hit the Ramp and slid down a ways. EVERYBODY was concerned, except Tami..she was laughing hard...so of course I had to tell her she should have held on to the hand rail and been more careful. I mean come on watch your step. The Dr. checked me and I took two steps on the ramp and down I went! Talk about Karma...serves me right. Everyone else was very careful.
Then most of the morning was spent on another "3 hour tour", but this one was literally 3 hours, on a small boat, on very choppy water...several of our fellow group members, didn't seem real enthusiastic after the first hour or two...but none volunteered any "chum" for the fish (if you know what I mean)...along the way we had some dolphins accompany us, and sightings of Albatross and Frigate Birds.
We arrived at Santa Cruz and two taxis (more 4dr trucks) picked us up and drove us to the Hotel Fernandina. The rooms were much nicer than the Hotel Optunia, but no food, oh well. We then walked to the lunch spot, El Chocolat. A nice restaurant. We had a vegetable soup, which we put popcorn in, a great tradition in Ecuador, that we should adopt. Then a fish fillet and potatoes, veggies and of course chocolate cake.
We were then force marched to the Darwin Research Center, looking like bowling balls, rolling down the road. This is the home of the most famous Tortoise in the world, Lonesome George. Although I am not sure why they call him lonesome, he had several female companions in his pen.
Tortoises don't come into their sexual maturing until about 25 years, and live for quite a while. George is supposedly 150 yrs old. Imagine that and still frisky.
We also visited with several large tortoises who were on a feeding platform. But as on all the Islands, no touching any of the animals.
The last activity of the day was a hike to Tortuga Bay. Famous for the pirate stories. Didn't see Johhny Depp, but it was supposed to be a great place to surf. There were a lot of sea turtles also swimming in the bay. (Tortuga means turtle in Spanish) The waves were large and constant, and then we discovered just 100 yards on the other side a completely calm bay, with large Mangrove trees. In between we saw many many Marine Iguanas and even one in a tree. Felipe said he had never seen one in a tree..Photo Op..
We went back and all went separate ways to explore the town and eat of course. We went to the Cafe Del Mar...food was good. While there Craig and Marie stopped in and she ordered a hamburger. What showed up was a bun the size of a small dinner plate and a burger just larger than a quarter...I guess beef shrinks on the equator...