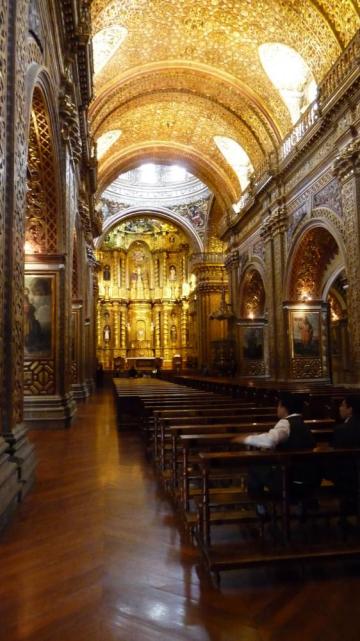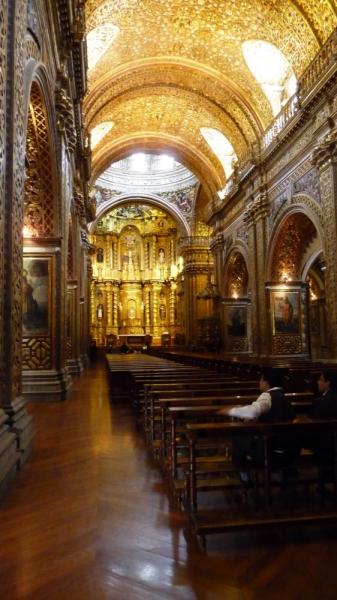 Today we got up early and had breakfast – scrambled egg buffet and headed out to the dock for another "3 hour" boat ride, to the island of Isabela. We had to go through the usual customs search and spray then wait for the boat. The boat ride was actually only two hours, but the water was choppy and we had a few more people that were not enjoying the ride.
When the boat approached the island, we could see the penguins and the Blue Footed Boobies that inhabit this place.
We checked into the La Casa Marita, a nice hotel that had it's own beach front and large rooms. Tami and I got a nice one facing the beach, with a bed that looked like a Double King.. which was good, because that is about all that would hold us at this point. Then we went for lunch.
We had lunch at the restaurant Los Delphinos. It consisted of a soup, a rice mound surrounded with shrimp, octopus and calamari…it was delicious and I was starving, being reduced to only one breakfast. I ate all of mine, but Tami decided to diet as she didn't like the calamari or octopus.
We had a chance to snorkel and saw a lot of Pilot Fish, and some really iridescent fish that I had no idea what they were. Tami saw a Spotted Eagle Ray and they had a playful Sea Lion that would zoom right up to you then zoom away. Unbelievable how fast they can swim.
That afternoon we took the boat to Los Tintoreras. This is a small portion of the island that has zillions of Marine Iguanas. They weren't aggressive and would just move out of your way as you walked. After landing we immediately found a young Sea Lion, who looked like it wanted to be hugged..BUT NO TOUCHING…We then circled the island and saw Blue Footed Boobies, Penguins, and bird called an Oyster Catcher. We also were able to see some White Tipped Sharks, about 10ft long. There were quite a few in this one area that was designated "Shark Resting Area".
That evening we ate as a group at the hotel...Spaghetti.