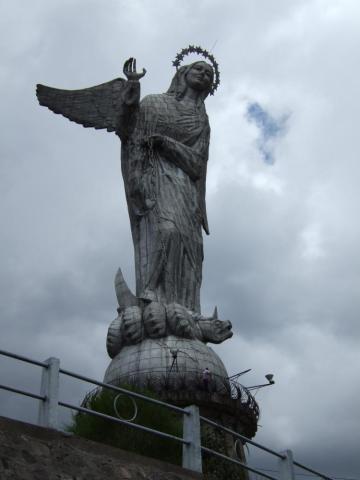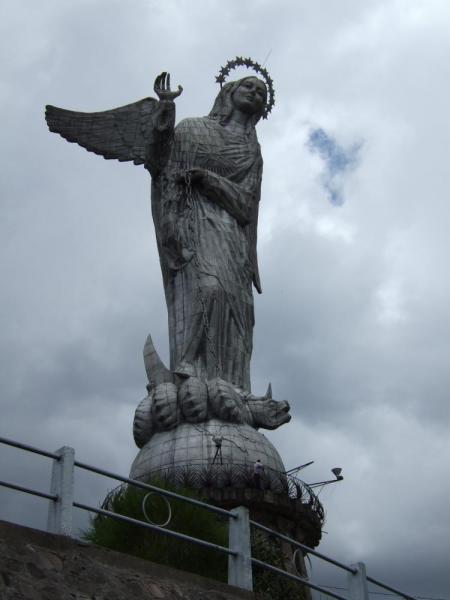 Today we had an early departure 6:00am….but not before breakfast. Felt sorry for the women who had served us dinner late the night before and then had to get up earlier than normal today to fix us breakfast…
We caught the same boat this time back, water was much smoother, but still affected some of our group. Then we landed back on Santa Cruz, had to get the hand gel treatment and then got on a bus from the southern tip of the island of to the northern tip. A 45 minute ride to the Ferry, that crosses between Santa Cruz and the island of Balta…We were also reunited with the rest of our luggage. I didn't mention earlier that we had to leave the majority of it before going to Isabela, because we were returning on those small planes..that broke down and forced us to take another boat ride and wear the same underwear for 3 days…
We then took a bus to the Airport. Lots of vendors outside just waiting for all the departing tourists who are desperate to buy their aunt Mildred that last minute hand carved toilet paper holder.
We were unlucky enough to get a return flight that went straight to Quito, non stop, meaning only one meal.
We were met at the airport by of course Daniel and Carlos, and whisked back to the Hotel Eugenia. That would be the last time we saw our companions as most had an early flight out, meaning they had to leave for the airport 3 hours ahead (3:00am or so)…
Tami and I went looking for dinner, (as I had only had 2 meals that day, and I was sure I was wasting away). We returned to Mama Clorinda's, where we indulged in some soup and those excellent tamales. There was an extra bonus; strolling musicians came in while we were eating and entertained us with the guitar and pan flute.