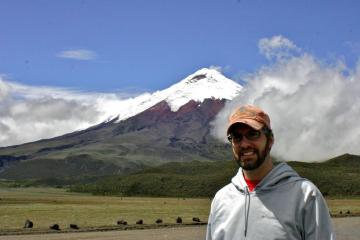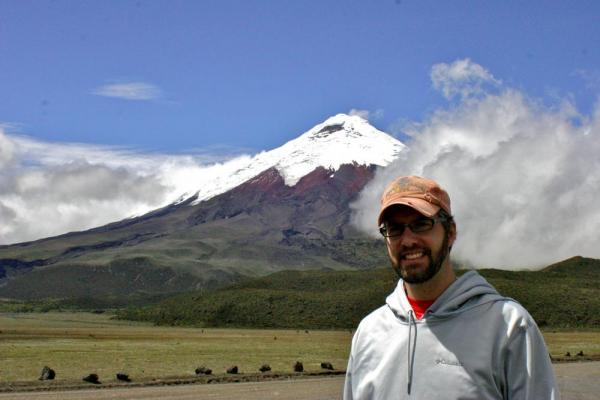 This morning we had a great breakfast at the hotel before meeting Santiago and Carlos, our guide and driver, for the day. We headed south from the city towards Cotopaxi, which is one of the world's highest active volcanoes (just under 6,000 m). We stopped at a lookout to take in views of the valley that Quito occupies; it is a long narrow city, like nowhere I have even traveled before. The sheer number of people who live there is astounding!
Santiago was a wonderful guide! He was clearly passionate about Ecuador. He was from southern Ecuador where his family ran a farm. He and Ryan talked nearly the entire drive about different types of agriculture – coming from Montana that is something that we have a lot of experience with. We watched as our clear view of Cotopaxi volcano changed to clouds, and then the majestic peak revealed itself again as we rounded to the southern slopes. The weather patterns are curios when the valleys are positioned with jungle to the east and ocean to the west. We arrived to the Cotopaxi entrance where we picked up our local guide. She spoke only Spanish, but Santiago was there to fill in the gaps we didn't understand. We visited the interpretation center which is filled with painted depictions of the area, the geo-physics of the volcano, and the flora and fauna of the area. Outside there was a small garden of native plants. We continued up Cotopaxi to a small parking lot where people hike up to the refugio. We were already quite high, over 14,000 feet, and although I had been training, the elevation slowed me down. My husband and the guides walked up to the snow line, higher than most people go, and I stayed behind to walk around and take photos of the view. About an hour passed before the rest of my group returned to the parking lot, and as we drove down the mountain there was a marked ease to my breathing.
We returned to the park entrance for our first local lunch, a starter of soup. I had a nice pork chop with potatoes and a glass of tree tomato juice. The translation of tree tomato was not an easy one. I was very surprised to take a drink and find a mild sweet juice as opposed to the salty, hearty juice I was expecting. Upon our return to Quito we visited the Adventure Life office to meet the staff and deliver a few gifts from Montana. (The Buffalo jerky was accepted with a few raised eye brows. "Mindy, must we cook it first?" Then, the group took Ryan and I around town to see Quito by night. It was just beautiful to see all the buildings lit up! We had a great seafood dinner before turning in for the night.