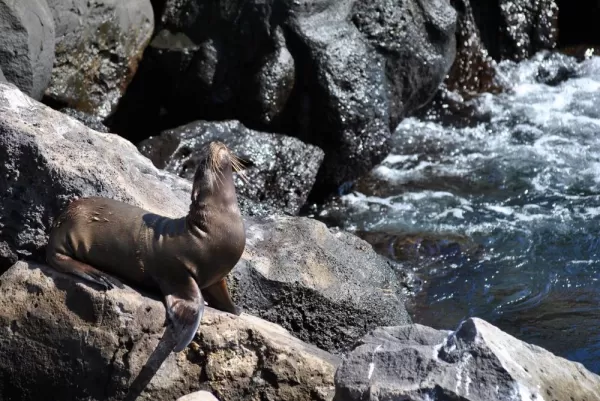 So much to see, so little time! Charles Darwin Research Station where we met Super-Diego (no viagra for him!), The Widows of Lonesome George, a mustard-yellow Land Iguana, and a banana-leaf chomping Galapagos Tortoise.
Next stop, Santa Cruz Highlands where we encounter HUMONGOUS Galapagos Tortoises and get to experience first-hand what it is like to live in a shell (and that some turtles named Pablo even do push-ups!). We descend into the lava tubes and then off to devour an incredible lunch at a jungle restaurant - homemade plantain chips, eggplant parmigiana (I know - in the jungle? - that's why I included a pic), and the most divine apple cake in the world. My only regret is that we didn't buy a dozen to bring home!
A few of us venture out for more kayaking in Divine Bay - though some unexpected waves cause 1 kayak to topple but the ever-prepared Pablo has a rescue boat-in-waiting and our intrepid traveling companions eschew the boat ride and continue kayaking. We go out searching for more sharks - Tintoreras (white-tipped reef sharks) - but do not find any although an undulating eagle ray sweeps by us.
With only 1 day in Santa Cruz, we rush to pack it all in and Theresa and I head out for a quick pre-dinner shopping excursion trip in town via boat taxi. A few knicknacks, some jewelry and local ceramics; our tourist shopping itch has been scratched.
We end the day with a fantastic dinner at the Angermeyer Waterfront Inn overlooking the water (Pablo scored us the best table!) and lament that our journey home begins the next day. Many of us try to stay up as late as we can to enjoy our beautiful rooms at the Angermeyer, very open and airy. The hotel has an interesting history, originally a cave built and occupied by an Angermeyer patriarch, the family continues to be a presence in Santa Cruz.