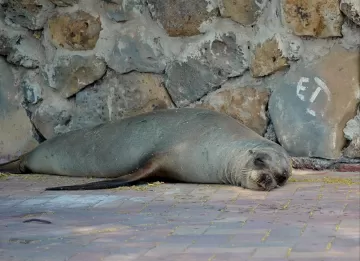 Handed over a stockpile of granola bars, power bars, and freeze-dried snacks (a vegetarian's survival kit in latin america) to the volcano hikers, and set off to walk through town. Navigating around the piles of Marina Iguanas lazily making their way to the beach as the hot sun rose threw up a couple of detours, but this is why I travel - for the unexpected, unscheduled, wander-fueled experiences of unknown places. I had a lovely conversation (spanish) with a lady at the post office about the history of the Ecuadorean stamps, caught the relay races of school children, and captured the slimmest of birds posing on the beach.
A couple of indulgent hours at the lovely Iguana Crossing pool to rest up for an afternoon surf session, and then El Gringo picks me up with the shortest surf board I've ever used and we walk along a deserted beach where we find a couple of other Ecuadoreans surfing. I leash up and try to gain my stability on 7'2 or 7'4 board. Finally, I catch a wave!! (always thrilling) and a round of applause from the Ecuadorean surf dudes on the beach (as they say in Ecuador, totally chevre!). Two plus hours later, and many great rides, the sun is setting and other surfers have retreated to the beach due to recent tiger shark sightings. We amble back to the hotel - and all I can think is, 'I can't believe I just surfed the Galapagos!!! It is this moment, and a culmination of many others on the trip, that thoroughly and joyfully validates this trip and the path that led me to it.
A late dinner results in the group slowly trickling into the hotel bar, sharing stories about our respective days and taking moments to gaze at the star-filled sky (tech note: download Star Chart app!). All of us stoked, tired and deeply appreciative of this journey and our fellow travelers.