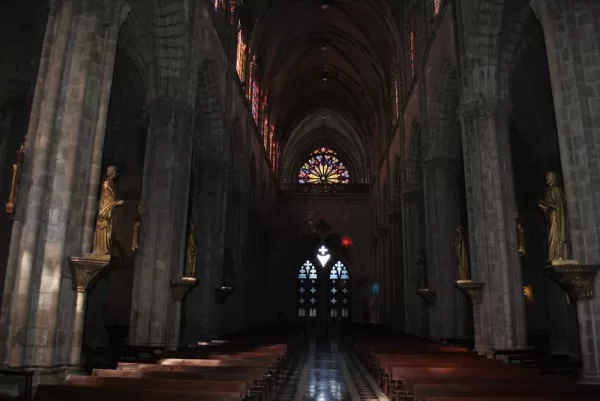 A pooled city tour matches me up with Bob, an affable extremely well-traveled Pastor from MN. As we both are intent on practicing Spanish, we ask our guide Willie to conduct the entire tour in Spanish, which he does - and among our new vocabulary, I learn the lovely expression for popcorn - palomitos de maiz (which is often served at meals in Ecuador, primarily for adding to soup instead of soup crackers).
We traverse the city, getting a little taste of street life in Quito, visiting La Basilica del Voto Nacional, El Panecillo (Virgin Statue with wings), Pululahua Volcanic Crater and finally making it to the Equator - La Mitad del Mundo. This was quite a pilgrimage for me because when I was in the 3rd grade some nasty little boy nicknamed me The Equator because our teacher had described it as the line that went around the fattest part of the earth. He apparently thought I was chubby and that he was clever so thus the nickname. (If I wasn't so nice, I'd post a pic of the now bald-headed pot-bellied adult version of this child, but I digress...)
Not only did I never quite fit this nickname, I clearly overcame it when I achieved the equatorial feat of balancing an egg on a nailhead and received a certificate for doing so. And, no, not everyone gets it. It now hangs prominently next to my law degree - not sure which was more difficult, but certainly the egg was more fun.
I say goodbye to Bob, whose next stop was a week's stay with the Amazonian Huaorani tribe, noteworthy for their string apparel apparently intended to protect them from the feared urethra-probing candiru fish.
The day ends back at Hostal de La Rabida, with Brownie, a glass of wine, a roaring fire and a deliciously fresh Tropical Salad.