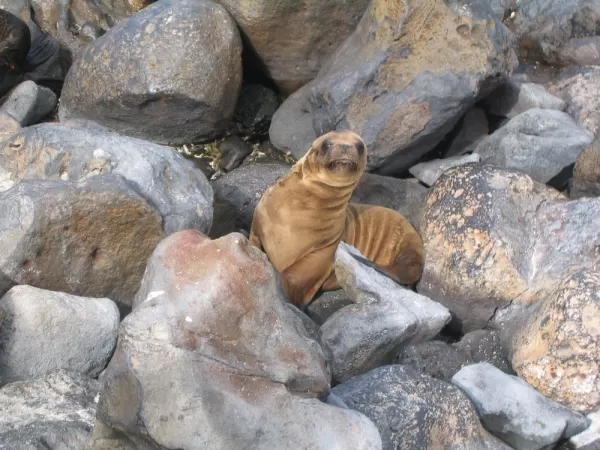 We started the day with a breakfast of pancakes (yum!). We ate along side the member of our group we met at the airport the previous night and Brownie, the resident bunny.
After breakfast, we met the rest of our group and our guide, Sebastian. We were driven to the airport and were on our way to the Galapagos!
The airport at San Cristobal was very, very busy. There was a little convoy of pickup trucks waiting for our group. So, our stuff went in the back and we all hopped in. We checked in to our hotel and then set off on a hike. First, a word about the hotel. We were a little concerned about what we would find on the islands. Let me just say that we had absolutely no reason. Our hotel room overlooked the water, we had a balcony with a hammock and the room was huge. Back to the hike…We hiked to the high point of the area where we could see a statue of Darwin. We also saw our first blue footed boobies.
After the hike, some of our group decided to take a swim, but we were looking forward to trying out that hammock. It was great. For one person. Two people, not so good. Once we had fixed the hammock we went to dinner and tried our first Brahma cerveza. Quite tasty…