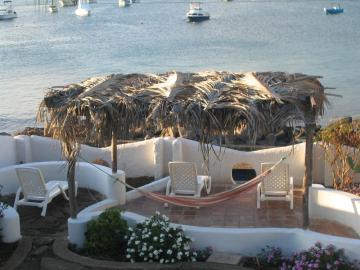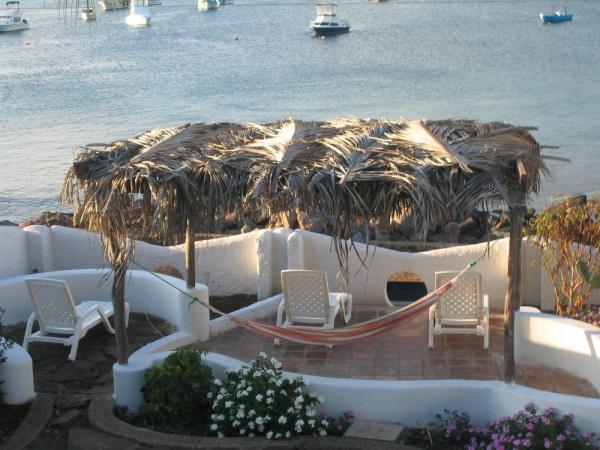 Again, the hotel was beautiful, however, there was a noisy neighbor…a rooster. Our friend woke us at 4AM and about every 10 minutes after that. And, not content to be left out, the sea lions decided to join in the fun at 5AM.
We had breakfast as a group (by the way, there were 9 of us total, 10 including the guide). Then we went sea kayaking!
I had never been kayaking at all and must admit to a slight fear of the water. I know, I know, I went to the Galapagos. Islands surrounded by water. I guess it's one way to get over a fear!
We had the choice of a single or double kayak. My husband, Simon, was quite adamant about wanting a single kayak and I wanted a double. Due to the fact that there were more doubles, Simon had to give it up. We had so much fun and were able to paddle well together. It was great! I found out later he didn't want to be in the kayak with me because he thought my scrawny dinosaur arms wouldn't be able to keep up with him. Well, mister, I not only kept up, I set the pace! Check out the guns!
We kayaked around the mangrove-lined shoreline and went to the bay where we had hiked the first day. We saw sea lions, blue footed boobies, great frigates, sea turtles, etc. We stopped at a secluded beach for lunch (we hopped on the boat for that, don't want to upset the beachmaster) and then took a boat ride over to Kicker Rock for a bit of snorkeling.
We snorkeled in between the rocks and saw a few fur seals, then went around the outside where the currents are much stronger. I'm not a strong swimmer, so I decided to stay close to the group. Simon on the other hand got so wrapped up in all the sea life he didn't realize he was quite far behind us. When a group of five sharks swam directly beneath him, he realized he was alone. Fortunately, the sharks are not too interested in people, so they swam right by.
We made our way back to the boat, then the beach and kayaked our way back. Another night, another Brahma!